Publication:
Las utopías reales de Erik Olin Wright: ¿una reconstrucción científica del socialismo utópico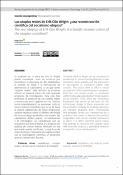 Authors
Advisors (or tutors)
Editors
Publisher
Federacion Española de Sociologia
Abstract
El conjunto de la obra de Erik O. Wright puede concebirse como un esfuerzo por reconstruir el marxismo en dos direcciones: el análisis de clase y la formulación de alternativas al capitalismo, a las que llamó "utopías reales". Este artículo se propone ofrecer un balance crítico de este segundo programa de investigación. Para ello, tras presentar el proyecto de las utopías reales y enmarcarlo en la agenda de una "ciencia social emancipadora", se examinan tanto el marco teórico-conceptual que sirve de base al diseño institucional de estas propuestas utópico-realistas como la defensa de Wright de una estrategia gradualista de erosión del capitalismo. Ambos planos –el institucional y el estratégico– se caracterizan por un pluralismo que busca liberar a la imaginación política de ciertos marcos mentales en los que suele quedar confinada, lo que hace de este intento por reconciliar el espíritu utópico con la investigación científica un programa abierto a desarrollos futuros.
The work of Erik O. Wright can be conceived as an attempt for reconstructing Marxism in two directions: class analysis and the discussion of alternatives to capitalism called "real utopias". This article aims to offer a critical assessment of this second research program. First, the real utopias project is presented within the broader agenda of an "emancipatory social science". Then, both the theoretical framework that serves as the basis for the institutional design of these proposals and the gradualist strategy for eroding capitalism are critically analyzed. Both –institutional and strategic– levels are characterized by a pluralism that seeks to liberate the political imagination from certain mental frameworks in which it is often confined, which makes this attempt to reconcile the utopian spirit with scientific enquiry a promising research program for future developments.
Collections