Publication:
Bacteria-Assisted Transport of Nanomaterials to Improve Drug Delivery in Cancer Therapy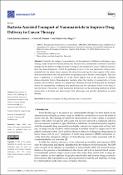 Advisors (or tutors)
Editors
Abstract
Currently, the design of nanomaterials for the treatment of different pathologies is presenting a major impact on biomedical research. Thanks to this, nanoparticles represent a successful strat-egy for the delivery of high amounts of drugs for the treatment of cancer. Different nanosystems have been designed to combat this pathology. However, the poor penetration of these nano-materials into the tumor tissue prevents the drug from entering the inner regions of the tumor. Some bacterial strains have self-propulsion and guiding capacity thanks to their flagella. They also have a preference to accumulate in certain tumor regions due to the presence of different chemo-attractants factors. Bioconjugation reactions allow the binding of nanoparticles in living systems, such as cells or bacteria, in a simple way. Therefore, bacteria are being used as a transport vehicle for nanoparticles, facilitating their penetration and the subsequent release of the drug inside the tumor. This review would summarize the literature on the anchoring meth-ods of diverse nanosystems in bacteria and, interestingly, their advantages and possible applica-tions in cancer therapy.
Description
RESEARCHER ID M-3378-2014 (María Vallet Regí) ORCID 0000-0002-6104-4889 (María Vallet Regí)
Collections