Publication:
Relaxation times do not capture logical qubit dynamics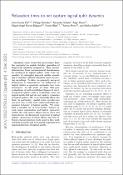 Advisors (or tutors)
Editors
Publisher
Verein Forderung Open Access Publizierens Quantenwissenschaf
Abstract
Quantum error correction procedures have the potential to enable faithful operation of large-scale quantum computers. They protect information from environmental decoherence by storing it in logical qubits, built from ensembles of entangled physical qubits according to suitably tailored quantum error correcting encodings. To date, no generally accepted framework to characterise the behaviour of logical qubits as quantum memories has been developed. In this work, we show that generalisations of well-established figures of merit of physical qubits, such as relaxation times, to logical qubits fail and do not capture dynamics of logical (plias. We experimentally illustrate that, in particular, spatial noise correlations can give rise to rich and counter-intuitive dynamical behavior of logical qubits. We show that a suitable set of observables, formed by code space population and logical operators within the code space, allows one to track and characterize the dynamical behaviour of logical qubits. Awareness of these effects and the efficient characterisation tools used in this work will help to guide and benchmark experimental implementations of logical qubits.
Description
© Verein Forderung Open Access Publizierens Quantenwissenschaf 2022. We gratefully acknowledge funding by the U.S. Army Research Office (ARO) through grant no. W911NF-14-1-0103. We also acknowledge funding by the Austrian Science Fund (FWF), through the SFB BeyondC (FWF Project No. F71), by the Austrian Research Promotion Agency (FFG) contract 872766, by the EU H2020-FETFLAG-2018-03 under Grant Agreement no. 820495, and by the Office of the Director of National Intelligence (ODNI), Intelligence Advanced Research Projects Activity (IARPA), via the U.S. ARO Grant No. W911NF-16-1-0070. ll statements of fact, opinions or conclusions contained herein are those of the authors and should not be con-strued as representing the official views or policies of IARPA, the ODNI, or the U.S. Government. We acknowledge support from the Institut f~ur Quanteninformation GmbH (Innsbruck, Austria). We acknowledge financial support from the Spanish MINECO grants MINECO/FEDER Projects FIS 2017-91460-EXP, PGC2018-099169-B-I00 FIS-2018 and from CAM/FEDER Project No. S2018/TCS4342 (QUITEMAD-CM). AKP acknowledges support from the National Science Center (Poland) Grant No. 2016/22/E/ST2/00559.
Collections