Publication:
The Anisian continental-marine transition in Sardinia (Italy): state of the art, new palynological data and regional chronostratigraphic correlation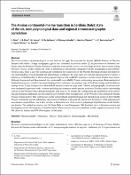 Advisors (or tutors)
Editors
Abstract
The scarce evidence of paleontological records between the upper Permian and the Anisian (Middle Triassic) of Western Europe could reflect (1) large stratigraphic gaps in the continental successions and/or (2) the persistence of disturbed conditions after the Permian–Triassic Boundary extinction event and the succession of ecological crises that occurred during the Early Triassic. In this context, the study of palynological associations, integrated with the stratigraphical and sedimentological data, plays a key role in dating and correlating the successions of the Western European domain and improves our understanding of environmental and paleoclimatic conditions. In some cases, pre-Anisian paleontological evidence is lacking, as in Sardinia (Italy), where a long gap encompasses the middle Permian (pars) to late Lower Triassic successions. Although fragmented and disseminated, the continental Lower-Middle Triassic sedimentary successions (Buntsandstein) of Sardinia have proved crucial to our understanding of the evolution of the southern edge of the Paleo-Europe and the different timings of the Tethys transgression (Muschelkalk facies) in some of these areas. Various paleogeographic reconstructions were attempted in previous works, without providing any consensus on the precise position of Sardinia and its surrounding seaways in the Western Tethys domain during this time interval. At present, the configuration and distribution of the subsiding and emerging landmasses and the temporal development of the transgressions of the Western Tethys during the Middle Triassic remain unclear. This work focuses on the stratigraphical, sedimentological and palynological aspects of three Middle Triassic continental-marine sedimentary successions in Sardinia, with particular attention to the analysis of the palynological associations sampled there, and it also provides a detailed review of all previous palynological publications on the Sardinian Anisian. The studied successions are: Su Passu Malu section (Campumari, SW Sardinia), Arcu is Fronestas section and Escalaplano section (Escalaplano, Central Sardinia). These sections were also correlated to other significant sections in the SW (Scivu Is Arenas) and NW (Nurra) parts of the island.
El escaso contenido paleontológico en el registro sedimentario entre el Pérmico superior y el Anisiense (Triásico Medio) del oeste de Europa estaría relacionado con 1) una prolongada ausencia de registro continental y/o 2) la persistencia de condiciones ambientales alteradas tras la crisis de la extinción del límite Pérmico-Triásico (PTB) y posteriores crisis asociadas durante todo el Triásico Inferior. En este contexto, el estudio detallado de asociaciones palinológicas integrado con datos estratigráficos y sedimentológicos juega un papel destacado para datar y correlacionar las sucesiones del registro sedimentario de esta edad en el dominio occidental de Europa, así como para conocer mejor los ambientes deposicionales y la evolución climática. En algunos casos no hay datos paleontológicos del Triásico previos al Anisiense, como es el caso de Cerdeña (Italia), donde la ausencia de registro sedimentario incluye desde parte del Pérmico medio hasta el Triásico Inferior. Aunque los afloramientos del Triásico Inferior y Medio (en facies Buntsandstein) de Cerdeña son incompletos y están separados entre sí, sin embargo, han mostrado proporcionado una información crucial para comprender la evolución del eje meridional de Paleo-Europa, así como para precisar las diferentes etapas transgresivas (en facies Muschelkalk) en estas áreas del Tethys occidental. Se han publicado diferentes trabajos intentando reconstruir el escenario paleogeográfico de Cerdeña y de sus diferentes corredores internos durante el intervalo de tiempo señalado, aunque no se ha alcanzado ningún consenso en cuanto a su posición ni en la configuración de zonas elevadas y deprimidas durante el citado intervalo de tiempo. El presente trabajo se centra en el estudio detallado de la estratigrafía, sedimentología y asociaciones de polen en tres secciones con una evolución de ambientes que incluyen desde el continental hasta el marino. Se hace un especial hincapié en el estudio de las asociaciones palinológicas muestreadas en este trabajo, así como en la revisión de otras asociaciones de edad Anisiense estudiadas por otros autores. Las secciones estudiadas aquí son: Su Passu Malu (Campumari, SO Cerdeña), Arcu is Fronestas and Escalaplano (Escalaplano, Cerdeña Central). Estas secciones han sido también correlacionadas con otras conocidas de distintas áreas de la isla, como Scivu is Arenas y Nurra, al SO and NO de Cerdeña, respectivamente.
Collections