Publication:
Negocios catalanes, capitales argentinos: una red transnacional al fondo del primer peronismo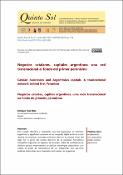 Authors
Advisors (or tutors)
Editors
Publisher
Universidad Nacional de La Pampa
Abstract
Este trabajo identifica y caracteriza una red corporativa de intereses argentinos y españoles (catalanes en su mayoría) tejida en torno a una docena de empresas radicadas en Buenos Aires en la primera mitad del siglo XX. A partir del núcleo directivo de la sociedad Providencia Compañía Argentina de Seguros, se localizan nodos de confluencia de distintos grupos empresariales, se analizan estrategias corporativas y se calibra el grado de compromiso de sus integrantes con opciones políticas disponibles en el momento, en España y en Argentina.
This paper identifies and characterizes a corporate network based on Argentinian-Spanish business (Catalan mainly) that was built around a dozen companies all located in Buenos Aires, in the first half of 20th century. Studying the board of directors of the company Providencia Compañía Argentina de Seguros, it finds meeting points in which different groups are involved and it analyzes what corporate strategies they applied. It also determines whether any political compromise was acquired by the members of the network, both in Spain and Argentina.
Este resumo identifica e caracteriza uma rede corporativa de interesses argentinos e espanhóis (na sua maioria catalães) em torno a uma dúzia de empresas radicadas em Buenos Aires na primeira metade do século XX. A partir do núcleo diretivo da sociedade Providencia Companhia Argentina de Seguros, localizam-se nodos de confluência de diferentes grupos empresariais, analisam-se estratégias corporativas e calibra-se o grau de compromisso de seus integrantes com opções políticas disponíveis nesse momento, na Espanha e na Argentina.
Collections