Publication:
Vertebrate ichnofauna from Sierra de las Cabras tracksite (Late Miocene, Jumilla, SE Spain). Mammalian ichnofauna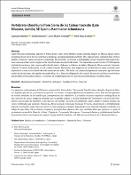 Advisors (or tutors)
Editors
Publisher
Universidad Complutense de Madrid
Abstract
Upper Miocene sedimentary deposits of Sierra de las Cabras in the Prebetic Ranges (Jumilla, Región de Murcia, Spain) yield a exceptional fossil site of diverse vertebrate ichnofauna, including mammals and birds. This paper presents a detailed study of those ichnites of that site which correspond to mammals. The footprints are located in stratigraphic surfaces found in a thin marly limestone succession that can be assigned to the latest Tortonian to earliest Messinian. The mammalian record consists of 324 footprints (included in trackways, pairs, groups and isolated ichnites) of diverse vertebrates, including: Hippipeda, Rhynoceripeda, Canipeda, Felipeda, Ursipeda, Rodentipeda, as well possible Suipeda. The ichnites were imprinted on wet and cohesive marly carbonate mud, deposited in a semi-arid wetland with relevant freshwater influx. The fossil site, cleaned and protected some years ago but herein studied by the first time, add together the nearby Hoya de la Sima site (Hippipeda, Pecoripeda, Bestiopeda and Paracamelichnium, and probably proboscidean ichnites) to conform an exceptional record of Late Miocene ichnofauna in southern Iberia.
Los depósitos sedimentarios del Mioceno superior de la Sierra de las Cabras en la Zona Prebética (Jumilla, Región de Murcia, España) aportan un yacimiento excepcional con diversa icnofauna que incluye mamíferos y aves. Este artículo presenta un estudio detallado de las huellas que corresponden a los mamíferos. Las huellas están en superficies estratigráficas en una sucesión de calizas margosas delgadas que se pueden asignar a la parte terminal del Tortoniense o la basal del Mesiniense. Las pisadas de mamíferos consisten en 324 huellas (incluidas en rastrilladas, pares, grupos e icnitas aisladas) de varios vertebrados que incluyen: Hippipeda, Rhynoceripeda, Canipeda, Felipeda, Ursipeda, Rodentipeda y probablemente Suipeda. Las huellas estan impresas en barro calizo margoso compacto depositado en un ambiente húmedo semiárido con influjo de agua dulce. El yacimiento, limpiado y protegido hace algunos años pero estudiado ahora por primera vez, junto al yacimiento vecino de la Hoya de la Sima (Hippipeda, Pecoripeda, Bestiopeda, Paracamelichnium y probablemente huellas de poroiboscídeos) constituyen un conjunto excepcional de icnofauna del Mioceno en el Sureste de la Península Ibérica.
Collections