Publication:
Flexibilización, desregulación y dualización: las trayectorias de liberalización en el cambio institucional del mercado de trabajo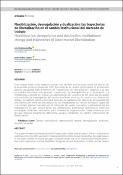 Advisors (or tutors)
Editors
Publisher
Federacion Española de Sociologia
Abstract
Este trabajo tiene como objetivo realizar una revisión de literatura sobre las teorías de la economía política comparada (EPC) que explican el cambio institucional en el mercado laboral, agrupadas bajo el término de "trayectorias de liberalización", respecto a la que se pueden identificar dos grandes trayectorias: la desregulación y la dualización. La metodología consiste en revisar las aportaciones de la teoría de los recursos de poder y la tradición de investigación del institucionalismo histórico. En base a una síntesis de ambas, se sostiene como la principal tesis que la segmentación laboral es el resultado de una interacción entre las estrategias de los empleadores de "divide et impera" (agencia) y el cambio gradual marcado por la reducción del poder asociativo y estructural de los trabajadores, lo que socava tanto las instituciones protectoras (estructura) como las estrategias sindicales necesarias para combatir la segmentación. Estas dinámicas son las que generan trayectorias diferentes, aunque compartan un cambio institucional de liberalización.
This paper reviews the literature on the "trajectories of the liberalization", from a comparative political economy (CPE) approach, that explains the institutional change that has taken place in the labor market in recent decades. Grouped under the term "liberalization trajectories", two main trajectories can be identified: deregulation and dualization. To this end, we review the contributions of the theory of power resources and the research tradition of historical institutionalism. Based on a synthesis of both, We hold as the main thesis that labor segmentation is the result of an interaction between employers' "divide et impera" (agency) strategies and the gradual change marked by the reduction of workers' associational and structural power, which undermines both the protective institutions (structure) and the trade union strategies needed to combat segmentation. These dynamics generate different trajectories, even if they share an institutional shift towards liberalization.
Collections