Publication:
An integrated tool set for verifying CafeOBJ specifications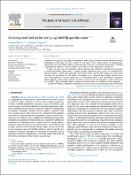 Advisors (or tutors)
Editors
Abstract
CafeOBJ is a language for specifying and verifying a wide variety of software and/or hardware systems. Traditionally, verification has been carried out via proof scores, which consist of reducing goalrelated terms in user-defined modules. Although proof scores are semi-formal (the specifier is partially responsible for soundness), their flexibility makes them a useful approach to verification. For the last years, we have developed different formal tools around the CafeInMaude interpreter, a CafeOBJ interpreter implemented in Maude. Besides supporting proof scores, we implemented a theorem prover, a proof script generator from proof scores, and the first stages of a proof script generator and fixer-upper. In this paper, we present (i) an improved and detailed version of our proof script generator and fixer-upper and (ii) a reimplementation of the CafeInMaude interpreter, which supports, among others, parallel execution, an improved tool integration, and an interactive user interface. The benchmarks used to evaluate the tools confirm the usefulness of the approach.
Description
CRUE-CSIC (Acuerdos Transformativos 2022)
Collections