Publication:
Study on the immunopathological effect of titanium particles in peri‐implantitis granulation tissue: A case–control study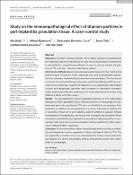 Authors
Petkovic Curcin, Aleksandra
Advisors (or tutors)
Editors
Abstract
Objectives To identify titanium particles (TPs) in biopsy specimens harvested from peri-implantitis lesions and secondarily to study the histopathological characteristics in peri-implantitis compared to periodontitis, in order to evaluate whether the presence of TPs could alter respective inflammatory patterns. Material and methods Biopsies containing granulation tissue were harvested during routine surgical treatment in 39 peri-implantitis cases and 35 periodontitis controls. Serial sections were obtained using titanium-free microtome blades. The first and last sections of the peri-implantitis specimens were used for identification of TPs by scanning electron microscopy coupled with dispersive X-ray spectrometry. Intermediate sections and periodontitis specimens were processed for descriptive histological study using haematoxylin–eosin staining and for immunohistochemical analysis using CD68, IL-6, Nf-kB and VEGF markers. Results TPs were identified in all peri-implantitis specimens as free metal bodies interspersed within granulation tissue. However, presence of macrophages or multinucleated giant cells engulfing the TPs were not identified in any specimen. Peri-implantitis granulations were characterized by a chronic inflammatory infiltrate rich in neutrophils. About half of peri-implantitis patients exhibited a subacute infiltrate characterized with lymphocytes interweaved with neutrophils and eosinophils. When compared to periodontitis, peri-implantitis tissues showed higher proportions of macrophages and a more intense neovascularization, based on significantly higher expression of CD68 and VEGF respectively. Conclusion TPs were identified in all peri-implantitis specimens, but without evidencing any foreign body reaction suggestive for direct pathological effects of TPs. The peri-implantitis granulation tissue was characterized by intense neovascularization and presence of a chronic inflammatory infiltrate dominated by plasma cells, neutrophils and macrophages.
Description
CRUE-CSIC (Acuerdos Transformativos 2022)
Collections