Publication:
Evolución de la cobertura informativa sobre accidentes y suicidios en la prensa digital española (2010-2017)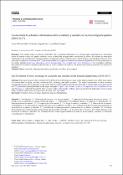 Advisors (or tutors)
Editors
Publisher
Universidad Complutense de Madrid
Abstract
Este estudio mide la evolución (2010-2017) de la cobertura informativa en la prensa digital española de las principales causas de muerte externa en España: suicidios, caídas accidentales, ahogamientos y accidentes de tráfico. Se analizan las principales características de su tratamiento (sensacionalismo, enfoque preventivo, víctima joven, víctima famosa y proximidad). Para ello, se ha realizado un análisis de contenido de 4.733 piezas periodísticas recogidas a través de la hemeroteca digital Mynewsonline publicadas en los medios digitales elpais.com, elmundo.es, abc.es, lavanguardia.com, elconfidencial.com y 20minutos.es. Los resultados confirman una tendencia creciente en la publicación de noticias sobre accidentes de tráfico y una ausencia de enfoque preventivo en noticias de suicidios.
This study measures the evolution (2010-2017) of the information coverage in the Spanish digital press of the main causes of external death in Spain: suicides, accidental falls, drowning and traffic accidents. The main characteristics of their treatment (sensationalism, preventive approach, young victim, famous victim and proximity) are also analyzed. A content analysis has been carried on 4.733 journalistic pieces published by the digital newspapers elpais.com , elmundo.es , abc.es , lavanguardia.com , elconfidencial.com and 20minutos.es collected through the Mynewsonline archive. The results confirm a growing trend in the publication of news about traffic accidents and an absence of preventive focus in news of suicides.
Collections