Publication:
On some topological realizations of groups and homomorphisms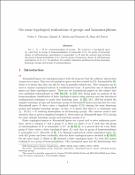 Advisors (or tutors)
Editors
Publisher
American Mathematical Society
Abstract
Given a homomorphism of groups f : G → H, we construct a topological space Xf such that its group of homeomorphisms Aut(Xf) is isomorphic to G, its group of homotopy classes of self-homotopy equivalences E(Xf) is isomorphic to H and the natural map between Aut(Xf) and E(Xf) is f. In addition, we consider realization problems involving homology groups, homotopy groups and groups of automorphisms.
Citation
[1] P. S. Alexandroff. Diskrete Räume. Mathematiceskii Sbornik (N.S.), 2(3):501–519, 1937. [2] L. Babai. Finite digraphs with given regular automorphism groups. Periodica Mathematica Hungarica, 11(4):257–270, 1980. [3] J. A. Barmak. Algebraic topology of finite topological spaces and applications, volume 2032. Springer, Berlin–Heidelberg, 2011. [4] J. A. Barmak.Automorphism groups of finite posets II. https://arxiv.org/abs/2008.04997v1, 2020. [5] J.A.Barmak and E.G.Minian. Automorphism groups of finite posets. Discrete Mathematics,309(10):3424–3426, 2009. [6] G. Birkhoff. On groups of automorphisms. Rev. Un. Mat. Argentina, 11:155–157, 1946. [7] P. J. Chocano, M. A. Morón, and F. R. Ruiz del Portal. Topological realizations of groups in alexandroff spaces. Rev. R. Acad. Cien. Serie A. Mat., DOI: 10.1007/s13398- 020-00964-7. [8] C. Costoya and A. Viruel. Every finite group is the group of self-homotopy equivalences of an elliptic space. Acta Mathematica, 213(1):49–62, 2014. [9] A. Hatcher. Algebraic topology. Cambridge Univ. Press, Cambridge, 2000. [10] D. W. Kahn. Realization problems for the group of homotopy classes of self-equivalences. Mathematische Annalen, 220(1):37–46, 1976. [11] M. J. Kukie la. On homotopy types of alexandroff spaces. Order, 27(1):9–21, 2010. [12] J. P. May. Finite spaces and larger contexts. Unpublished book, 2016. [13] M. C. McCord. Singular homology groups and homotopy groups of finite topological spaces. Duke Mathematical Journal, 33(3):465–474, 1966. [14] I. Rival. A fixed point theorem for finite partially ordered sets. J. Combin. Theory A 21, pages 309–318, 1976. [15] R. E. Stong. Finite topological spaces. Transactions of the American Mathematical Society, 123(2):325–340, 1966. [16] M. C. Thornton. Spaces with given homeomorphism groups. Proceedings of the American Mathematical Society, 33(1):127–131, 1972. [17] J. V. Whittaker. On isomorphic groups and homeomorphic spaces. Annals of Mathematics, 78(1):74–91, 1963.
Collections