Publication:
Taphonomic characterisation of tooth marks of extinct Eurasian carnivores through Geometric Morphometric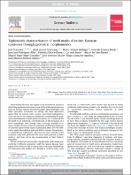 Advisors (or tutors)
Editors
Abstract
En este trabajo se hace una aproximación al estudio tafonómico de las marcas de diente de Pachycrocuta brevirostris, un carnívoro típico del Pleistoceno inferior que se extinguió en el Pleistoceno medio. Tafonomómicamente su actividad ha sido descrita en algunos trabajos de la literatura científica, pero nunca se habáin analizado desde una perspectiva morfométrica las marcas de diente que dejan sobre sus presas. A través del análisis morfométrico de sus marcas de diente caracterizamos sus marcas de diente, de manera que podamos diferenciarlas de las marcas que hacen otros carnívoros. Este estudio permite confirmar que este hiénido fuel el principal responsable de las marcas de diente identificadas en el yacimiento de Venta Micena.
Description
CRUE-CSIC (Acuerdos Transformativos 2022)
Collections