Publication:
Early Toarcian (Jurassic) brachiopods from the Balearic Islands (Spain) and their paleobiogeographic context.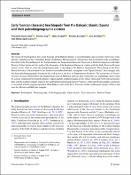 Advisors (or tutors)
Editors
Abstract
The record of brachiopods in the Lower Toarcian of the Balearic Islands is described after a reassessment of previous works and new samplings in the Tramuntana Range of Mallorca. The recognized species have been assimilated to the assemblages described in the Iberian Range in the Tenuicostatum and Serpentinum biozones. Moreover, a detailed comparison with other Western Tethys basins and the study of the dispersion of the brachiopod faunas in relation with the Early Toarcian Oceanic Anoxic Event, allow to refine the paleobiogeographic relationship of the Balearic brachiopods. They belong to the Euro-Boreal Province of brachiopods in the Tenuicostatum Biochron and correspond to the"Spanish Fauna" that emerged after the deep paleobiogeographic disruption that took place at the base of Serpentinum Biochron. The occurrence of Prionorhynchia msougari Rousselle in the Serpentinum Zone of Mallorca indicates that, within this last assemblage, there would be a closer connection between the Balearic region and the southern margin of the Tethys (Betic and North African basins) than with the northern margin (Eastern Iberian Platform System and Eastern Pyrenees). This paleobiogeographic conclusion is consistent with the supposed position of the Balearic area in the Early Toarcian, on the southeastern margin of Iberia and near the Alboran and Kabylian margins.
Description
CRUE-CSIC (Acuerdos Transformativos 2022)
Collections