Publication:
REV-ERBα Agonist SR9009 Promotes a Negative Energy Balance in Goldfish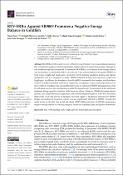 Authors
Herrera Castillo, Lisbeth
Advisors (or tutors)
Editors
Abstract
REV-ERBα (nr1d1, nuclear receptor subfamily 1 group D member 1) is a transcriptional repressor that in mammals regulates nutrient metabolism, and has effects on energy homeostasis, although its role in teleosts is poorly understood. To determine REV-ERBα's involvement in fish energy balance and metabolism, we studied the effects of acute and 7-day administration of its agonist SR9009 on food intake, weight and length gain, locomotor activity, feeding regulators, plasma and hepatic metabolites, and liver enzymatic activity. SR9009 inhibited feeding, lowering body weight and length gain. In addition, the abundance of ghrelin mRNA decreased in the intestine, and abundance of leptin-aI mRNA increased in the liver. Hypocretin, neuropeptide y (npy), and proopiomelanocortin (pomc) mRNA abundance was not modified after acute or subchronic SR9009 administration, while hypothalamic cocaine- and amphetamine-regulated transcript (cartpt-I) was induced in the subchronic treatment, being a possible mediator of the anorectic effects. Moreover, SR9009 decreased plasma glucose, coinciding with increased glycolysis and a decreased gluconeogenesis in the liver. Decreased triglyceride levels and activity of lipogenic enzymes suggest a lipogenesis reduction by SR9009. Energy expenditure by locomotor activity was not significantly affected by SR9009. Overall, this study shows for the first time in fish the effects of REV-ERBα activation via SR9009, promoting a negative energy balance by reducing energetic inputs and regulating lipid and glucose metabolism.
REV-ERBα (nr1d1, receptor nuclear subfamilia 1 grupo D miembro 1) es un represor transcripcional que regula el metabolismo y la homeostasis energética en mamíferos. Sin embargo, su papel en teleósteos se conoce muy poco, por lo que el objetivo de este trabajo es conocer la implicación de REV-ERBα en el balance energético y metabólico en los peces. Para ello, se realizó una administración aguda y subcrónica de su agonista SR9009, estudiando los efectos sobre la ingesta, ganancia de peso y longitud, actividad locomotora, reguladores del apetito, metabolitos hepáticos y plasmáticos, y actividad de enzimas hepáticas relacionadas con el metabolismo de lípidos y carbohidratos. El agonista SR9009 disminuyó significativamente la ingesta, el peso y el crecimiento. Además, redujo la expresión de ghrelina en el intestino, y aumentó la expresión hepática de leptina. La abundancia de ARNm de hcrt (hipocretina), npy (neuropéptido y), y pomc (proopiomelanocortina) no se modificó tras la administración aguda ni subcrónica con el SR9009, mientras que cart (péptido relacionado a la cocaína y la anfetamina) se indujo en el tratamiento subcrónico, siendo un posible me diador de los efectos anorexigénicos producidos por el SR9009. Además, el SR9009 disminuyó la glucemia, coincidiendo con un aumento en la glicólisis y una disminución en la gluconeogénesis hepática. Los triglicéridos descendieron junto con la actividad de enzimas lipogénicas, sugiriendo una menor lipogénesis en los peces tratados con SR9009. En resumen, este estudio demuestra por primera vez en peces los efectos de la activación de REV-ERBα por SR9009, que actúa promoviendo un balance energético negativo al reducir las entradas energéticas y regulando el metabolismo de lípidos y carbohidratos.
Collections