Publication:
Electrochemical (Bio)Sensing Devices for Human-Microbiome-Related Biomarkers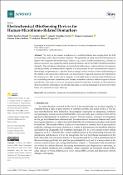 Advisors (or tutors)
Editors
Abstract
The study of the human microbiome is a multidisciplinary area ranging from the field of technology to that of personalized medicine. The possibility of using microbiota biomarkers to improve the diagnosis and monitoring of diseases (e.g., cancer), health conditions (e.g., obesity) or relevant processes (e.g., aging) has raised great expectations, also in the field of bioelectroanalytical chemistry. The well-known advantages of electrochemical biosensors—high sensitivity, fast response, and the possibility of miniaturization, together with the potential for new nanomaterials to improve their design and performance—position them as unique tools to provide a better understanding of the entities of the human microbiome and raise the prospect of huge and important developments in the coming years. This review article compiles recent applications of electrochemical (bio)sensors for monitoring microbial metabolites and disease biomarkers related to different types of human microbiome, with a special focus on the gastrointestinal microbiome. Examples of electrochemical devices applied to real samples are critically discussed, as well as challenges to be faced and where future developments are expected to go..
Collections