Publication:
Factors Underpinning the Shift to Eveningness during Early Adolescence: Pubertal Development and Family Conflicts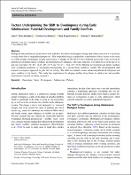 Advisors (or tutors)
Editors
Abstract
Biological and psychosocial factors have been related to the shift to eveningness during early adolescence but it is necessary to study them from a longitudinal perspective. This longitudinal study examined the contribution of these factors to the onset of a shift towards eveningness in early adolescence. A sample of 440 (49.9% boys) Spanish adolescents were assessed for pubertal development, family conflicts, and morningness/eveningness. The same measures were taken twice at the age of 12 and one year later (T1: M = 12.47, SD = 0.75 and T2: M = 13.64, SD = 0.78). Pubertal development and family conflicts were considered predictors of morningness/eveningness in a mixed-effects multilevel model. The developmental shift towards eveningness appeared in girls but not in boys. The shift was related to more advanced pubertal development and more conflicts in the family. This study has implications for shaping healthy sleep habits in adolescents and possible interventions focused on family dynamics.
Description
CRUE-CSIC (Acuerdos Transformativos 2022)
Collections