Publication:
Microaggressions in Academic Spaces: What About the Library?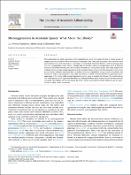 Advisors (or tutors)
Editors
Abstract
Microaggressions are subtle aggressions, often unintentional, which are usually directed at certain groups of people, generally minorities. Due to their insidious frequency, they cause great discomfort. They can even cause permanent problems with adapting and integrating of various kinds. University libraries, as the social spaces that they are, accommodate a wide variety of people and can be places where microaggressions occur in different directions: librarians towards users, users towards librarians and among these groups. This study analyzes the incidence of various types of microaggressions in the academic library environment from the point of view of one group of users: academics and researchers. An online survey was completed by a large number of academics and researchers from a large geographic area. Data was obtained on both observed and felt or experienced microaggressions in the library, either towards themselves or other users, or towards the librarian. The results indicate that researchers are more aggressive than librarians, making the library space a safer place for diversity than the university. Nevertheless, for certain aspects the library shows some data that invites reflection and an opportunity to further reduce occurrences.
Las microagresiones son agresiones sutiles, muchas veces involuntarias, que suelen estar dirigidas a determinados grupos de personas, generalmente minorías. Debido a su frecuencia insidiosa, causan una gran incomodidad. Incluso pueden causar problemas permanentes de adaptación e integración de varios tipos. Las bibliotecas universitarias, como espacios sociales que son, dan cabida a una gran variedad de personas y pueden ser lugares donde se produzcan microagresiones en diferentes direcciones: bibliotecarios hacia usuarios, usuarios hacia bibliotecarios y entre estos colectivos. Este estudio analiza la incidencia de varios tipos de microagresiones en el entorno de la biblioteca académica desde el punto de vista de un grupo de usuarios: académicos e investigadores. Una encuesta en línea fue completada por un gran número de académicos e investigadores de un área geográfica grande. Se obtuvieron datos de microagresiones tanto observadas como sentidas o experimentadas en la biblioteca, ya sea hacia ellos mismos o hacia otros usuarios, o hacia el bibliotecario. Los resultados indican que los investigadores son más agresivos que los bibliotecarios, lo que hace que el espacio bibliotecario sea un lugar más seguro para la diversidad que la universidad. Sin embargo, para ciertos aspectos la biblioteca muestra algunos datos que invitan a la reflexión y una oportunidad para reducir aún más las ocurrencias.
Description
CRUE-CSIC (Acuerdos Transformativos 2022)
Collections