Publication:
Turquía y Afganistán: relaciones de cooperación y rivalidad en una región en cambio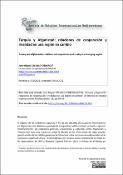 Advisors (or tutors)
Editors
Publisher
Universidad Autónoma de Madrid: Taller de Estudios Internacionales Mediterr�neos
Abstract
El regreso de los talibán ha supuesto el fin de dos décadas de ocupación internacional en Afganistán y ha abierto un periodo de inseguridad política a nivel nacional y regional. Históricamente, las relaciones políticas, económicas y culturales entre Afganistán y Turquía han sido muy estrechas desde la década de los años veinte del siglo pasado, pero la vuelta de los talibán genera incertidumbres sobre como se van a desarrollar estas relaciones a partir de ahora. El rol adoptado por Turquía, como miembro de la OTAN, en las operaciones de ISAF y Resolute Support Mission ubicó a Ankara en el bando en conflicto con los talibán. Sin embargo, tras el fin de la ocupación, los talibán ven en Turquía un socio internacional en el cual confiar y crucial para ganarse la legitimad de parte de la comunidad internacional.
The return of Taliban marks the end of two decades of international occupation in Afghanistan, opening a period of political insecurity at national and regional level. Historically, political, economic, and cultural relations between Afghanistan and Turkey have been very close since the 1920s, but the political change in Kabul raises uncertainties about how these relations will develop from now on. Turkey's role as a NATO member in ISAF and Resolute Support Mission operations placed Ankara on the side in conflict with the Taliban. Currently, however, Taliban see Turkey as a crucial international partner to rely on and to gain legitimacy in the eyes of the International Community.
Collections