Publication:
El estrés: una bolsa cargada de metáforas. Especular hacia un discurso y una práctica del estrés compartida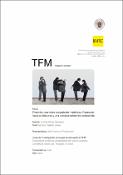 Authors
Advisors (or tutors)
Editors
Abstract
La presente investigación aborda un análisis metafórico del término estrés con el propósito de situarlo política e ideológicamente para ofrecer, a través de la práctica artística, nuevos modelos conceptuales desde los pensar, sentir y convivir con el concepto. De esta forma, a partir de la analogía de la bolsa que propone Ursula K. Le Guin, el trabajo se estructura en torno a dos partes. En la primera parte, abrimos la bolsa del estrés para recoger y estudiar sus principales usos metafóricos —el estrés como resistencia, flexibilidad y equilibrio— atendiendo a sus contextos históricos y a las personalidades que los han conformado. En la segunda parte, revisamos las metáforas del estrés desde las prácticas artísticas y sus teorías afines para imaginar una bolsa del estrés plural y compartida. Con este motivo, se realiza una breve revisión ideológica de las herramientas de gestión del estrés para posteriormente re-configurarlas como lenguajes desde los que dialogar e inter-ser con estrés.
This research addresses a metaphorical analysis of the term stress to locate it politically and ideologically to offer, through artistic practice, new conceptual models for thinking, feeling and living with the concept. Based on the analogy of the carrier bag proposed by Ursula K. Le Guin the work is structured around two parts. In the first part, we open the bag of stress to collect and study its main metaphorical uses —stress as resistance, flexibility and balance— taking into account their historical contexts and the personalities that have shaped them. In the second part, we review the metaphors of stress from artistic practices and their related theories to imagine a plural and shared carrier bag of stress. For this reason, a brief ideological review of stress management tools is carried out to reconfigure them as languages from which to dialogue and inter-being with stress.