Publication:
Lifetime measurements in the odd-A nucleus Hf-177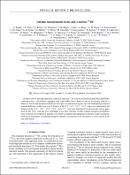 Advisors (or tutors)
Editors
Publisher
American Physical Society
Abstract
Lifetimes of low- and high-spin states in the odd-A nucleus Hf-177 were measured during the EXILL&FATIMA campaign using a spectrometer equipped with eight HPGe-Clover detectors and 16 fast-timing LaBr3(Ce) detectors. For the determination of lifetimes in the pico- to nanosecond regime, the well-established generalized centroid difference method was used. Lifetimes of the 9/2(-), 9/2(+), 11/2(-), 11/2(+) states were remeasured, the lifetimes of the 13/2(-), 17/2(-), 13/2(+), 15/2(+), and 17/2(+) states were determined for the first time and an upper limit for the 19/2(+) state has been established. From these lifetimes absolute reduced transition probabilities were extracted and compared to particle-rotor-model calculations and quasiparticle-phonon-model calculations showing the importance of including multipole-multipole interactions in the description of odd-A nuclei in the rare earth region.
Description
©2020 American Physical Society. Artículo firmado por 36 autores. The EXILL&FATIMA campaign would not have been possible without the support of several services at the ILL and the LPSC of Grenoble. We are grateful to the EXOGAM collaboration for the loan of the detectors and to GANIL for assistance during installation and dismantling of the array. We are also grateful for the provision of high-quality fast-timing equipment by the FATIMA collaboration. We thank the team of the FRM2 reactor (Garching, Bavaria) for the irradiation producing the <SUP>177</SUP>mLu source and Mark Harfensteller and Richard Henkelmann (ITG Garching) for the organization of the irradiation and shipment. This work was supported by the German BMBF under Grant No. 05P19PKFNA; the Spanish government through Grant No. RTI2018-098868-B-I00 and the STFC(UK). P.A. acknowledges the financial support by Project No. SP2020/45.
Collections