Publication:
Iron Oxide Nanoparticles: An Alternative for Positive Contrast in Magnetic Resonance Imaging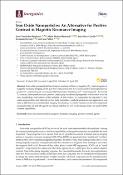 Advisors (or tutors)
Editors
Abstract
Iron oxide nanoparticles have been extensively utilised as negative (T2) contrast agents in magnetic resonance imaging. In the past few years, researchers have also exploited their application as positive (T1) contrast agents to overcome the limitation of traditional Gd3+ contrast agents. To provide T1 contrast, these particles must present certain physicochemical properties with control over the size, morphology and surface of the particles. In this review, we summarise the reported T1 iron oxide nanoparticles and critically revise their properties, synthetic protocols and application, not only in MRI but also in multimodal imaging. In addition, we briefly summarise the most important nanoparticulate Gd and Mn agents to evaluate whether T1 iron oxide nanoparticles can reach Gd/Mn contrast capabilities.
Collections