Publication:
Integrated perspective of the present–day stress and strain regime in Colombia from analysis of earthquake focal mechanisms and geodetic data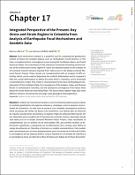 Advisors (or tutors)
Publisher
Servicio Geológico Colombiano
Abstract
Focal mechanism analysis is a powerful tool for analyzing the geodynamic context of broad and complex regions, such as northwestern South America. In this zone, a complex tectonic convergence occurs among the Caribbean, Nazca, and South American Plates. The orientations of the maximum horizontal shortening and the values of the brittle strain/stress regime (k' ratio) are obtained based on the analysis of 617 centroid–moment tensors reported from 1976 to 2017 in the Global Centroid–Moment–Tensor Project. These results are complemented with an analysis of GPS velocities, which can be used to determine the surficial deformation and to compare it with the crustal deformation to define the stress field in Colombia, and to formulate a seismotectonic model. This model is characterized by the slow southeastwards displacement of the Caribbean Plate, the convergence of the Andean, Coiba, and Panamá Blocks in northwestern Colombia, and the westwards convergence of the Nazca Plate below the South American overriding Plate. The strain/stress regime maps also show different tectonic environments and large–scale geological heterogeneities.
El análisis de mecanismos focales es una herramienta poderosa para analizar el contexto geodinámico de regiones extensas y complejas, como la esquina noroccidental de Suramérica. En esta zona se produce una compleja convergencia tectónica entre las placas del Caribe, de Nazca y de Suramérica. Los valores para la dirección de máximo acortamiento horizontal y el régimen frágil de esfuerzo/deformación (k') son obtenidos para el análisis de 617 tensores de momento sísmico reportados desde 1976 hasta 2017 en el Global Centroid–Moment–Tensor Project. Estos resultados se complementan con un análisis de las velocidades GPS, que permite analizar la deformación superficial, y compararla con la deformación de la corteza, para definir el campo de esfuerzos en Colombia y formular un modelo sismotectónico. Este modelo está caracterizado por un lento desplazamiento hacia el sureste de la Placa del Caribe, la convergencia de los bloques Andino, Coiba y Panamá en el noroeste de Colombia y la convergencia hacia el oeste de la Placa de Nazca por debajo de la Placa de Suramérica cabalgante. Los mapas de régimen de esfuerzo/deformación también muestran diferentes ambientes tectónicos y heterogeneidades geológicas de gran escala
Collections