Publication:
La suavidad. Procesos reparativos y futuros acariciables.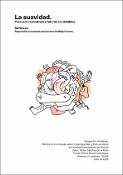 Authors
Advisors (or tutors)
Editors
Abstract
Tomando al cansancio como lugar desde el que pensar, este trabajo propone la búsqueda de espacios y momentos que potencien una repolitización de los estados de descanso y su dimensión afectiva. Para ello, se hará uso tanto de metodologías "reparativas" como de prácticas artísticas que ponen su foco en las estructuras de percepción dominantes y la relación de estas con las políticas emocionales. Situaciones de estrés sistémico y precariedad surgen acompañadas por la materialización de límites dentro de la línea única del progreso capitalista, pudiendo cuestionar la manera en la que estos han transformado la relación emocional que mantenemos con nuestros contextos. Conceptos como el de "suavidad", haciendo referencia a formas de conocer próximas a la piel y lo háptico, pujan así por poner en marcha otros modos de hacer que integren mente y cuerpo en busca de experiencias sensoriales más completas de nuestro entorno. Esto relativiza las construcciones históricas pasadas y presentes, activando la posibilidad de imaginar futuros que no estén guiados por nociones como la resistencia o el esfuerzo, sino por relaciones implicadas y simpoiéticas.
Taking tiredness as a place to think, this essay intends to search for spaces and moments that foster a repolitization of relaxation and its affective dimension. To this effect, we will make use of reparative methodologies as well as artistic practices focusing on the dominant perception structures and their relation with the politics of emotion. Situations such as systemic stress and precariousness emerge accompanied by the materialization of limits in the single line of capitalist progress, thus allowing us to dispute the way in which they have transformed our emotional relation with our contexts. Concepts like "softness", that touch upon ways of knowledge closer to the skin, permit us to transition into other forms of integrating mind and body in pursuit of complex sensorial experiences in our environment. This relativizes the historical construction of past and present, hence activating the possibility of imagining other futures that are not guided by notions like resistence or effort, but by implicated and simpoeitic relations.