Publication:
Creación de videojuegos de rol táctico mediante herramientas de desarrollo para el usuario final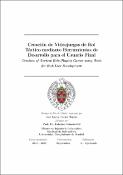 Authors
Advisors (or tutors)
Editors
Abstract
La industria del videojuego ha crecido exponencialmente en los últimos años. Como consecuencia de esta evolución, los entornos de desarrollo se han convertido en herramientas cada vez más complejas centradas en las características comunes de los videojuegos comerciales modernos. Este fenómeno ha propiciado la aparición de herramientas que no requieren conocimientos técnicos para que los usuarios las usen, haciendo el desarrollo de videojuegos accesible a todo el mundo. Debido al alto interés en este tipo de software hemos decidido desarrollar TRPG Maker, una herramienta intuitiva y autocontenida enfocada en el desarrollo de un género concreto de videojuegos para el usuario final. El diseño de esta aplicación se centra en facilitar la creación de videojuegos de rol táctico a aquellos usuarios sin conocimientos de programación o sin interés en la parte técnica del desarrollo de videojuegos. Junto con el desarrollo de la herramienta hemos llevado a cabo un proceso de diseño y desarrollo basándonos en los principios de desarrollo para el usuario final y hemos realizado una primera validación experimental con usuarios reales para determinar el grado de utilidad y comodidad del prototipo, así como para detectar fallos y descubrir posibles mejoras para esta herramienta. Por último, la realimentación obtenida ha sido usado para crear una versión del producto más completa, comparable en rasgos generales con herramientas similares que encontramos en el mercado, se ha publicado y puesto a disposición de la comunidad para su uso gratuito.
Video game industry has grown exponentially in the last years. As a consecuence of this evolution, development environments have become more complex toolkits focused on the many features that are common in modern commercial video games. This phenomenon has led to the emergence of tools that do not require technical knowledge for users to use them, making video game development accessible to everyone. Due to the high interest in this type of software we have decided to develop TRPG Maker, an intuitive and self-contained tool focused on the development of a specific genre of video games for the end user. The design of this application focuses on facilitating the creation of tactical role games to those users without programming knowledge or interest in the technical part of video game development. Along with the development of the tool we have carried out a design and development process based on the principles of end-user development and we have made a first experimental validation with real users to determine the degree of usefulness and comfort of the prototype, as well as to detect failures and discover possible improvements for this tool. Finally, the feedback obtained has been used to create a more complete version of the product, comparable in general features with similar tools that we find in the market, which has been published and made available to the community for free use.
Description
Trabajo de Fin de Máster en Máster en Ingeniería Informática, Facultad de Informática UCM, Departamento de Ingeniería del Software e Inteligencia Artificial, Curso 2019/2020