Publication:
Viabilidad de la mediación familiar sobre Blockchain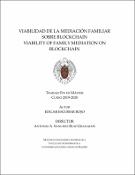 Authors
Advisors (or tutors)
Editors
Abstract
La tecnología de cadenas de bloques o Blockchain es conocida por su potencial al ser una base de datos totalmente descentralizada, pública y con una seguridad muy robusta. Sin embargo, su uso está poco enfocado a las personas individuales, siendo las empresas sus principales beneficiarias, a pesar de sus posibilidades en entornos sociales. La mediación familiar es una vía alternativa a la judicial para llevar a cabo un proceso de divorcio de forma pacífica y de mutuo acuerdo entre los divorciados, la cual se apoya en una figura mediadora y otra legal. El objetivo de este trabajo es mostrar la viabilidad del uso de la tecnología en procesos cotidianos entre dos personas, concretamente en la mediación familiar. Para ello, a partir de una investigación sobre las limitaciones legales y tecnológicas de la cadena de bloques, y sobre el proceso tradicional de mediación, así como de otros casos de uso similares, se ha diseñado y construido una aplicación basada en tecnologías distribuidas (dApp) para abogados, mediadores, y personas que se van a separar, sobre la que realizar el proceso de mediación. Entre otros beneficios de esta aplicación se puede destacar la descongestión en la justicia al simplificar y minimizar la gestión de los procesos judiciales, la mejora del proceso de mediación en la forma de participación de los mediadores y los abogados intentando asegurar su imparcialidad, facilitar el proceso para los separados y aumentar la transparencia del proceso y por lo tanto su fiabilidad. También se expone la falta de regulación legal sobre estas aplicaciones, que aún necesita tiempo para que se normalice completamente, y permita llevar el potencial del Blockchain al máximo.
Blockchain technology is a fully decentralized and public database with very robust security. However, despite its possibilities in social settings, it is focused on companies rather than individuals. In a divorce process, family mediation is an alternative way to carry out a peaceful agreement between the divorced. Family mediation avoids the judicial players and is supported by a mediator and a legal figure. This work is focused on the use of the blockchain technology in daily processes between two people, with an especial interest in family mediation. Accordingly, an application based on distributed technologies (dApp) for people involved in a divorce has been designed. This application is based on the legal and technological limitations of the blockchain, the traditional mediation process, as well as other similar cases. One of the main advance of this application is the simplification of the judicial processes. It leads to an improvement of the mediation process, facilitates the participation of mediators and lawyers and ensures their impartiality. Altogether, the application facilitates the divorce and increase the transparency of the process, and therefore its reliability. The lack of legal regulation on these applications is also exposed. They should be normalized and legally regulated to maximize their potential.
Description
Trabajo de Fin de Máster en Ingeniería Informática, Facultad de Informática UCM, Departamento de Ingeniería del Software e Inteligencia Artificial. Curso 2019/2020