Publication:
Europa en el aula: recursos didácticos para la enseñanza de la Historia de Europa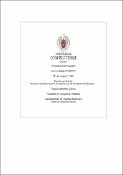 Advisors (or tutors)
Editors
Publisher
Universidad Complutense de Madrid
Abstract
Este proyecto pretende desarrollar materiales de trabajo que puedan ser de utilidad para la enseñanza de las asignaturas relativas a la historia de Europa que se imparten en el grado de Historia. En esta primera fase, se centrará en la asignatura Historia de Europa. Siglo XIX.
This project aims to develop work materials that can be useful for teaching subjects related to the history of Europe in the degree of History. In this first phase, it will focus on the subject History of Europe in the 19th century.