Publication:
A Violência no Cotidiano Escolar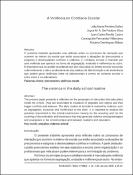 Advisors (or tutors)
Editors
Abstract
O presente trabalho apresenta uma reflexão sobre os processos de interação que ocorrem no interior da escola que estão associados a situações de preconceitos e estigmas e desencadeiam conflitos e violência. O cotidiano escolar é marcado por uma violência que aparece na forma de segregação, exclusão e indiferença ao outro. É importante que se analise as práticas que são veiculadas no âmbito escolar buscando o desvelamento e não o acobertamento das práticas de discriminação e de intolerância que podem gerar violências entre os adolescentes e jovens no contexto escolar e entre estes e os educadores.
The present paper presents a reflection on the processes of interaction that take place inside the school. They are associated to situations of prejudice and stigma and they trigger conflicts and violence. The daily routine at schools is marked by violence such as segregation, exclusion and indifference to the other. It is important to analyze the practices transmitted in the school environment looking for the unveiling and not the covering of discrimination and intolerance that may generate violence among teenagers and youngsters in the school context and between students and educators.
Collections