Publication:
Controlling Vilsmeier-Haack processes in meso-methylBODIPYs: A new way to modulate finely photophysical properties in boron dipyrromethenes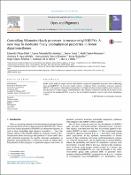 Advisors (or tutors)
Editors
Abstract
In the herein work we report the fine and selective control of competitive processes when submitting meso-methylBODIPYs to Vilsmeier-Haack reaction conditions. These competitive processes generate BODIPYs with opposed photophysical properties, from highly fluorescent dyes enabling laser emission, to non-fluorescent singlet-oxygen photosensitizers. The synthetic control is exerted on the basis of the structure of the starting BODIPY, as well as the electrophilic character (hard or soft) of the formylating reagent.
Description
Received 10 November 2016, Revised 16 January 2017, Accepted 16 February 2017, Available online 20 February 2017.
Collections