Publication:
GENLEARNING. La ciudad desde una perspectiva de género: la incorporación de la perspectiva de género en los estudios urbanos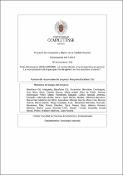 Advisors (or tutors)
Editors
Abstract
En esta memoria se recogen los principales objetivos perseguidos y alcanzados por el proyecto de Innovación y Mejora de la Calidad Docente cuyo acrónimo es GENLEARNING, y su título "La ciudad desde una perspectiva de género. La incorporación de la perspectiva de género en los estudios urbanos". También se refiere la metodología seguida y las actividades realizadas. En el anexo se recogen las fichas docentes revisadas de las dos principales asignaturas en que se ha aplicado el proyecto, centradas en el análisis de las transformaciones del espacio social, las intervenciones urbanas y el análisis del llamado modelo de bienestar y de cuidados local. También se refiere el tipo de incorporación e la perspectiva de género llevada a cabo en las fichas de las otras 22 asignaturas en que el proyecto se ha implementado, así como se recogen otras iniciativas importantes realizadas, principalmente, en la UCM, pero también en otras universidades, y en contacto con profesionales y entidades de dentro y de fuera del mundo académico. Por último, el proyecto ha contado con participación de los distintos colectivos universitarios, incluyendo también a estudiantes y personas del PAS.
This report includes the main objectives pursued and achieved by the Project of Innovation and Improvement of Learning Quality, whose acronym is GENLEARNING, and its title "The city from a gender perspective. The incorporation of the gender perspective in urban studies" The methodology followed and the activities carried out are also referred to. The annex contains the revised syllabus of the two main subjects in which the project has been applied, focusing on the analysis of social space transformations, urban interventions and the analysis of the so-called model of local well-being and care, from a gender perspective The type of incorporation of he gender perspective carried out in the teaching of the other 22 subjects in which the project has been implemented are presented, as well as other important initiatives carried out, mainly in the UCM, but also in other universities, and in contact with professionals and entities from within and outside the academic world. Finally, the project has had the participation of different university groups, including professors, students and people from the management staff.