Publication:
Medición y determinantes de la brecha tecnológica en España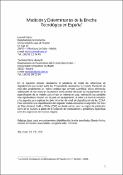 Files
Authors
Advisors (or tutors)
Editors
Publisher
Instituto Complutense de Análisis Económico. Universidad Complutense de Madrid
Abstract
Abordamos el problema de medir las diferencias de digitalización que existen entre las Comunidades Autónomas de España. Partiendo de esta idea proponemos un índice sintético que permite cuantificar dicha diferencia, utilizándolo de dos maneras: la primera como medida del gasto en equipamiento en la especificación de un modelo para el uso de Internet en cuya estimación las variables más significativas resultan ser el gasto en equipamiento, la edad y el nivel de estudios; y la segunda para explicar los determinantes del nivel de digitalización de las CCAA. Para encontrar una especificación del segundo modelo utilizamos el algoritmo RETINA de Pérez-Amaral, Gallo y White (2003) en donde vemos como se mejora la predicción fuera de la muestra a partir de la inclusión de interacciones y pendientes específicas entre los regresores del modelo original.
Citation
Cassel, C. (1999) "Demand for and Use of Additional Lines by Residential Customers". In: Loomis, Taylor (eds.) The Future of the Telecommunications Industry: Forecasting and Demand Analysis. Kluwer Academic Publisher, Boston. Cerno, L. and Pérez-Amaral, T. (2005) "Demand of Internet Access and Use in Spain" mimeo presented in the ITS Conference on Regional Economic Development. Corrocher, N. and Ordanini, A. (2002) "Measuring the digital divide: a framework for the analysis of cross-country differences" Journal of Information Technology, 17, 9-19. Davidson R, MacKinnon J (2003) "Econometric Theory and Methods". Oxford University Press. Fundación AUNA (2005) "Informe España 2005" en http://www.fundacionauna.com/areas/25_publicaciones/. Lebart, L., Morineau, A. and Warwick, K. (1984) "Multivariate Descriptive Statistical Analysis", Wiley. Madden G, Savage S and Simpson M (1996) "Information Inequality and Broadband Network Access: An Analysis of Australian Household Survey Data". Industry and Corporate Change, Oxford University Press, pp 1049–1056. Mansell, R. and When, U. (1998) "Knowledge Societies Information Technology for Suitable Development" Oxford University Press, Oxford and New York. Marinucci, M. (2005) "RETINA Winpack for Real Data: A quick guide for Automatic Model Selection" Universidad Complutense de Madrid, Somosaguas, Madrid. Marinucci, M. and Pérez-Amaral, T. (2005) "Econometric Modeling of Business Telecommunications Demand Using RETINA and Finite Mixtures" mimeo presented in the ITS Conference on Regional Economic Development. Martin, W. (1995) "The Global Information Society" Bowker Saur, London. OEDC Report (2001) "Understanding the Digital Divide" in www.oecd.org/dataoecd/38/57/. Pelletiere, D. and Rodrigo, G. (2000) "An Empirical Investigation of the Digital Divide in the United States" mimeo presented at the Western Economics Association annual conference. Peña, D. (2002) "Análisis Multivariante de Datos" Mc Graw Hill Eds., Madrid. Pérez-Amaral, T., Gallo, G. and White, H. (2003) "A Flexible Tool for Model Building: The Relevant Transformation of the Inputs Network Approach (RETINA)" Oxford Bulletin of Economics and Statistics 65, supplement 1, 821-838. Pérez-Amaral, T., Gallo, G. and White, H. (2005) "A Comparison of Complementary Automatic Modeling Methods: RETINA and PcGets" Econometric Theory, 21, 262-277. Randstad Report (2004) "Quality at Work in the EU-15: The Knowledge Society" in www.eurofound.eu.int/ewco/reports/. Rappoport P, Taylor L and Kridel D (2002) "The Demand of Broadband: Access, Content, and the Value of Time". In: Crandall RW, Alleman JH (eds.) Broadband: Should We Regulate High-Speed Internet Access? AEI-Brookings Joint Centre for Regulatory Studies, Washington, D.C. Red.es – Ministerio de Industria, Turismo y Comercio (2004) "Las TIC en los Hogares Españoles" in http://observatorio.red.es/estudios/consumo/index.html. Ricci, A. (2000) "Measuring information society dynamics of European data on usage of information and communication technologies in Europe since 1995" Telematics and Informatics, 17, 141-67. Sneath, P. and Sokal, R. (1973) "Numerical Taxonomy" W.H. Freeman, San Francisco. Taylor LD (1994) "Telecommunications Demand in Theory and Practice". Kluwer Academic Publishers. The World Bank (2005) "Financing Information and Communication Infrastructure Needs in the Developing World: Public and Private Roles" Draft for Discussion in http://lnweb18.worldbank.org/ict/resources.nsf/.