Publication:
La comunicación no verbal del presidente del Gobierno de España, Pedro Sánchez, durante la pandemia de la COVID-19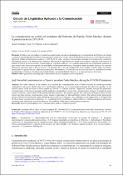 Advisors (or tutors)
Editors
Abstract
El objetivo de este trabajo es analizar las competencias comunicativas desplegadas por el presidente del Gobierno de España y valorar en qué medida han contribuido a una comunicación de crisis eficaz a través de sus discursos televisivos, en el contexto concreto del primer Estado de Alarma provocado por la COVID-19. Se aplica un análisis de contenido, mediante la sistematización cuantitativa del lenguaje kinésico y la interpretación cualitativa del sistema de significación no verbal en su conjunto, tomando como muestra de análisis el total de las intervenciones presidenciales en el período señalado. Los resultados determinan que el presidente mantiene un gran control sobre la tensión corporal y las cualidades vocales primarias básicas y redunda en pautas gestuales idénticas. Se muestran diferencias expresivas entre la fase de ascenso y de descenso de la curva de contagios del virus, aunque en ambas etapas (escalada y desescalada) se aprecia falta de coherencia comunicativa intersistémica. Se concluye que la asincronía entre su comunicación verbal, paralingüística y kinésica y la reiteración gestual afectan a la verosimilitud del discurso y al poder persuasivo del mismo.
The main objective of the research is to analyze the communication skills of Pedro Sánchez as spanish government spokesperson and assess whether they have contributed to effective crisis communication through his television speeches, in the specific context of the first State of Alarm caused by COVID -19. Content analysis is applied as a method, through the quantitative systematization of the kinesic language and the qualitative interpretation of nonverbal communication, taking as a sample the entire corpus of analysis, which includes all the presidential interventions in the indicated period. The president reveals great control of body tension and basic primary vocal qualities, and an excessive redundancy of identical bodily patterns. The political leader demonstrate gestural differences between the rising and falling phase of the virus contagion curve, although in both stages there is a frequent lack of intersystemic communicative coherence. It is concluded that the asynchronous behavior between verbal, paralinguistic and kinesic communication and gestural repetition influences the credibility of the speech and the persuasive power.
Collections