Publication:
Intervención social con hombres desde un enfoque de género : un reto para las políticas de igualdad en España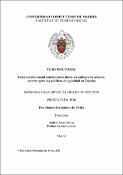 Files
Advisors (or tutors)
Editors
Publisher
Universidad Complutense de Madrid
Abstract
El género, entendido como la construcción social y cultural de la diferencia sexual de los seres humanos varía según épocas y sociedades. Los roles, espacios, atributos y expectativas sociales sobre mujeres y hombres cambian con el tiempo, tal y como han demostrado la antropología y la sociología, entre otras ciencias sociales. El género, como categoría de análisis, se ha utilizado para explicar y combatir las desigualdades entre mujeres y hombres desde la segunda mitad del siglo XX. Además, se ha incorporado en el diseño de políticas públicas y se ha convertido en uno de los conceptos sobre los que se sustentan las medidas para corregir las desigualdades entre mujeres y hombres. Sin embargo, la potencialidad del concepto de género y sus implicaciones no han sido del todo desplegadas. Si bien ha sido útil para explicar las razones de la discriminación y subordinación que las mujeres soportan todavía hoy en todas las sociedades conocidas, con demasiada frecuencia el género se ha utilizado como sinónimo de mujer, dejando a los hombres ocupar el lugar de lo universal y humano. El punto de partida de esta tesis es la consideración de que no es posible avanzar hacia una sociedad más democrática en términos de género sin el cambio en los hombres hacia prácticas igualitarias y no violentas. Es objetivo de esta tesis analizar cómo ha sido la mirada de género hacia los hombres desplegada desde las políticas públicas de promoción de la igualdad así como desde la intervención social sobre diferentes problemas sociales...
Gender, understood as the social and cultural construction of the sexual difference of human beings, varies between ages and societies. The social roles, spaces, attributes and expectations for women and men change over time, as has been demonstrated by anthropology and sociology, among other social sciences. Gender, as a category for analysis, has been used to explain and combat the inequalities between women and men since the second half of the 20th century. Additionally, it has been included in the design of public policies and it has become one of the concepts on which measures have been based to correct inequalities between women and men. However, the potential of the concept of gender and its implications has not been fully deployed. Even though it has been useful to explain the reasons for the discrimination and subordination of women that they still put up with in well-known societies, gender has been used as a synonym for women all too often, leaving men to occupy the place of that which is universal and human. The starting point of this thesis is the consideration that it is not possible to advance towards a more democratic society in gender terms without a change in men towards egalitarian and non-violent practices. The aim of this thesis is to analyze how the approach of gender towards men has been deployed from the public policies of promoting equality as well as from the social intervention on different social problems...
Description
Tesis inédita de la Universidad Complutense de Madrid, Facultad de Trabajo Social, leída el 14-02-2022
Collections