Publication:
Capital público y redistribución presupuestaria gubernamental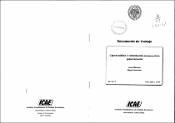 Files
Authors
Advisors (or tutors)
Editors
Publisher
Facultad de Ciencias Económicas y Empresariales. Instituto Complutense de Análisis Económico (ICAE)
Abstract
La literatura sobre los efectos económicos de la inversión pública suele centrarse en la relación entre capital público y productividad, estimando funciones de producción agregada. Este procedimiento sesga al alza el efecto beneficioso del capital público al ignorar la reasignación de recursos, fundamentalmente de capital privado, necesaria para financiarlo. En este trabajo consideramos conjuntamente la externalidad en la producción y la restricción presupuestaria gubernamental, 10 que permite calcular un nivel óptimo de capital público. Se demuestra que los criterios puramente tecnológicos sobredimensionan el capital publico y que, para un rango específico de parámetros tecnológicos, esta sobredimensión ocurre incluso cuando hay un efecto crowding-in.
The literature on public investment highlights the relationship between public capital and total output, estimating aggregate production functions. Such a procedure biases the positive effect of public capital by ignoring the financial constraint, and thus, the required resource reallocation, We consider both the production extemality and the government budget constraint. This allows us to solve for the optimal stock of public capital. We show that technological criteria may lead to an oversized public capital stock, and for a specific range of technological parameters, it occurs even when a crowding-m effeet takes place.
Citation
Argimón, I., J. M. González Páramo, M. J. Martín y J. M. Roldán (1993). "Productividad e infraestructuras en la economía española" Documento de Trabajo del Banco de España, 9313. Aschauer, D. (1989). "Does public capital crowd out private capital?". Journal of Monetary Economics 24 171-188. Aschauer, D. (1989). "Is public expenditure productive?". Journal of Monetary Economics 23 177-200. Bajo, O. y S. Sosvilla (1993). "Does public capital affect private sector performance?". Economic Modelling. July 1993, 179-184. Baxter, M. Y R. King (1993). "Fiscal policy in general equilibrium". The American Economic Review. June 1993, 315-334. Barro, J. Y X. Sala-i-Martin (1992). "Public finance in models of economic growth". Review of Economic Studies, 59, 645-661. Corrales A. Y D. Taguas (1989). "Series macroeconómicas para el período 1954-88: un intento de homogeneización". Instituto de estudios fiscales, 78. González-Parámo, J. M. (1994). "Infraestructuras y productividad: La evidencia empírica y sus implicaciones normativas", mimeo, Banco de España. Evans P. y G. Karras (1994). "Is goverment capital productive? Evidence from a panel of seven countries." Journal of Macroeconomics, vol 16, 2 , 271-279. García-Mila, T. (1990). "Un modelo dinámico de capital público". Investigaciones Económicas, 14, 369-383. Ghosh A. (1991). "Strategic aspects of public finance in world with high capital mobility". Journal of International Economics, 30, 229-247. Kehoe, P. (1987). "Coordination of fiscal policies in a world economy". Journal of Monetary Economies, 19, 349-376. Mas, M., J. Maudos, F. Pérez y E. Uriel (1993). "Capital público y productividad de la economía española". Instituto Valenciano de Investigaciones Económicas. WP-EC 93-08. Roldán,J. ,J. González-Páramo y I. Argimon (1993) "Inversión privada, gasto público y efecto expulsión", mimeo, Banco de España.