Publication:
Best Alternatives to Cronbach's Alpha Reliability in Realistic Conditions: Congeneric and Asymmetrical Measurements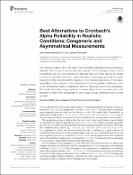 Advisors (or tutors)
Editors
Abstract
The Cronbach's alpha is the most widely used method for estimating internal consistency reliability. This procedure has proved very resistant to the passage of time, even if its limitations are well documented and although there are better options as omega coefficient or the different versions of glb, with obvious advantages especially for applied research in which the ítems differ in quality or have skewed distributions. In this paper, using Monte Carlo simulation, the performance of these reliability coefficients under a one-dimensional model is evaluated in terms of skewness and no tau-equivalence. The results show that omega coefficient is always better choice than alpha and in the presence of skew items is preferable to use omega and glb coefficients even in small samples.
Citation
Al-Homidan, S. (2008). Semidefinite programming for the educational testing problem. Cent. Eur. J. Oper. Res. 16, 239–249. doi: 10.1007/s10100-008-0056-0 CrossRef Full Text | Google Scholar Bernaards, C., and Jennrich, R. (2015). Package "GPArotation." Available online at: http://ftp.daum.net/CRAN/web/packages/GPArotation/GPArotation.pdf Cho, E., and Kim, S. (2015). Cronbach's coefficient alpha: well known but poorly understood. Organ. Res. Methods 18, 207–230. doi: 10.1177/1094428114555994 CrossRef Full Text | Google Scholar Cortina, J. (1993). What is coefficient alpha? An examination of theory and applications. J. Appl. Psychol. 78, 98–104. doi: 10.1037/0021-9010.78.1.98 CrossRef Full Text | Google Scholar Cronbach, L. (1951). Coefficient alpha and the internal structure of tests. Psychometrika 16, 297–334. doi: 10.1007/BF02310555 CrossRef Full Text | Google Scholar Dunn, T. J., Baguley, T., and Brunsden, V. (2014). From alpha to omega: a practical solution to the pervasive problem of internal consistency estimation. Br. J. Psychol. 105, 399–412. doi: 10.1111/bjop.12046 PubMed Abstract | CrossRef Full Text | Google Scholar Graham, J. M. (2006). Congeneric and (essentially) tau-equivalent estimates of score reliability what they are and how to use them. Educ. Psychol. Meas. 66, 930–944. doi: 10.1177/0013164406288165 CrossRef Full Text | Google Scholar Green, S. B., and Yang, Y. (2009a). Commentary on coefficient alpha: a cautionary tale. Psychometrika 74, 121–135. doi: 10.1007/s11336-008-9098-4 CrossRef Full Text | Google Scholar Green, S. B., and Yang, Y. (2009b). Reliability of summed item scores using structural equation modeling: an alternative to coeficient Alpha. Psychometrika 74, 155–167. doi: 10.1007/s11336-008-9099-3 CrossRef Full Text | Google Scholar Green, S. B., and Yang, Y. (2015). Evaluation of dimensionality in the assessment of internal consistency reliability: coefficient alpha and omega coefficients. Educ. Meas. Issues Pract. 34, 14–20. doi: 10.1111/emip.12100 CrossRef Full Text | Google Scholar Headrick, T. C. (2002). Fast fifth-order polynomial transforms for generating univariate and multivariate nonnormal distributions. Comput. Stat. Data Anal. 40, 685–711. doi: 10.1016/S0167-9473(02)00072-5 CrossRef Full Text | Google Scholar Ho, A. D., and Yu, C. C. (2014). Descriptive statistics for modern test score distributions: skewness, kurtosis, discreteness, and ceiling effects. Educ. Psychol. Meas. 75, 365–388. doi: 10.1177/0013164414548576 CrossRef Full Text | Google Scholar Hoogland, J. J., and Boomsma, A. (1998). Robustness studies in covariance structure modeling an overview and a meta-analysis. Sociol. Methodol. 26, 329–367. doi: 10.1177/0049124198026003003 CrossRef Full Text | Google Scholar Hunt, T. D., and Bentler, P. M. (2015). Quantile lower bounds to population reliability based on locally optimal splits. Psychometrika 80, 182–195. doi: 10.1007/s11336-013-9393-6 CrossRef Full Text | Google Scholar Jackson, P. H., and Agunwamba, C. C. (1977). Lower bounds for the reliability of the total score on a test composed of non-homogeneous items: I: algebraic lower bounds. Psychometrika 42, 567–578. doi: 10.1007/BF02295979 CrossRef Full Text | Google Scholar Javali, S. B., Gudaganavar, N. V., and Raj, S. M. (2011). Effect of Varying Sample Size in Estimation of Coefficients of Internal Consistency. Available online at: https://www.webmedcentral.com/wmcpdf/Article_WMC001649.pdf Lila, M., Oliver, A., Catalá-Miñana, A., Galiana, L., and Gracia, E. (2014). The intimate partner violence responsibility attribution scale (IPVRAS). Eur. J. Psychol. Appl. Legal Contex 6, 29–36. doi: 10.5093/ejpalc2014a4 CrossRef Full Text | Google Scholar Lord, F. M., and Novick, M. R. (1968). Statistical Theories of Mental Test Scores. Menlo Park, CA: Addison-Wesley Publishing Company. Google Scholar McDonald, R. (1999). Test Theory: a Unified Treatment. Mahwah, NJ: Lawrence Erlbaum Associates. Google Scholar Micceri, T. (1989). The unicorn, the normal curve, and other improbable creatures. Psychol. Bull. 105, 156–166. doi: 10.1037/0033-2909.105.1.156 CrossRef Full Text | Google Scholar Moltner, A., and Revelle, W. (2015). Find the Greatest Lower Bound to Reliability. Available online at: http://personality-project.org/r/psych/help/glb.algebraic.html Norton, S., Cosco, T., Doyle, F., Done, J., and Sacker, A. (2013). The hospital anxiety and depression scale: a meta confirmatory factor analysis. J. Psychosom. Res. 74, 74–81. doi: 10.1016/j.jpsychores,.2012.10.010 PubMed Abstract | CrossRef Full Text | Google Scholar R Development Core Team (2013). R: A Language and Environment for Statistical Computing. Vienna: R Foundation for Statistical Computing. Racine, J. (2012). Rstudio: a plataform-independet IDE for R and sweave. J. Appl. Econom. 27, 167–172. doi: 10.1002/jae.1278 CrossRef Full Text | Google Scholar Raykov, T. (1997). Scale reliability, cronbach's coefficient alpha, and violations of essential tau- equivalence with fixed congeneric components. Multivariate Behav. Res. 32, 329–353. doi: 10.1207/s15327906mbr3204_2 PubMed Abstract | CrossRef Full Text | Google Scholar Raykov, T. (2001). Bias of coefficient alpha for fixed congeneric measures with correlated errors. Appl. Psychol. Meas. 25, 69–76. doi: 10.1177/01466216010251005 CrossRef Full Text | Google Scholar Reise, S. P. (2012). The rediscovery of bifactor measurement models. Multivariate Behav. Res. 47, 667–696. doi: 10.1080/00273171.2012.715555 PubMed Abstract | CrossRef Full Text | Google Scholar Revelle, W. (2015a). Alternative Estimates of Test Reliabiity. Available online at: http://personality-project.org/r/html/guttman.html Revelle, W. (2015b). Package "psych." Available online at: http://org/r/psych-manual.pdf Revelle, W., and Zinbarg, R. (2009). Coefficients alpha, beta, omega, and the glb: comments on Sijtsma. Psychometrika 74, 145–154. doi: 10.1007/s11336-008-9102-z CrossRef Full Text | Google Scholar Shapiro, A., and ten Berge, J. M. F. (2000). The asymptotic bias of minimum trace factor analysis, with applications to the greatest lower bound to reliability. Psychometrika 65, 413–425. doi: 10.1007/BF02296154 CrossRef Full Text | Google Scholar Sheng, Y., and Sheng, Z. (2012). Is coefficient alpha robust to non-normal data? Front. Psychol. 3:34. doi: 10.3389/fpsyg.2012.00034 PubMed Abstract | CrossRef Full Text | Google Scholar Sijtsma, K. (2009). On the use, the misuse, and the very limited usefulness of Cronbach's alpha. Psychometrika 74, 107–120. doi: 10.1007/s11336-008-9101-0 PubMed Abstract | CrossRef Full Text | Google Scholar Sijtsma, K. (2012). Future of psychometrics: ask what psychometrics can do for psychology. Psychometrika 77, 4–20. doi: 10.1007/s11336-011-9242-4 CrossRef Full Text | Google Scholar Sijtsma, K., and van der Ark, L. A. (2015). Conceptions of reliability revisited and practical recommendations. Nurs. Res. 64, 128–136. doi: 10.1097/NNR.0000000000000077 PubMed Abstract | CrossRef Full Text | Google Scholar Sočan, G. (2000). Assessment of reliability when test items are not essentially t-equivalent. Dev. Surv. Methodol. 15, 23–35. Available online at: http://www.stat-d.si/mz/mz15/socan.pdf Tang, W., and Cui, Y. (2012). A Simulation Study for Comparing Three Lower Bounds to Reliability. Available online at: http://www.crame.ualberta.ca/docs/April 2012/AERA paper_2012.pdf Tarkkonen, L., and Vehkalahti, K. (2005). Measurement errors in multivariate measurement scales. J. Multivar. Anal. 96, 172–189. doi: 10.1016/j.jmva.2004.09.007 CrossRef Full Text | Google Scholar ten Berge, J. M. F., and Sočan, G. (2004). The greatest lower bound to the reliability of a test and the hypothesis of unidimensionality. Psychometrika 69, 613–625. doi: 10.1007/BF02289858 CrossRef Full Text | Google Scholar Teo, T., and Fan, X. (2013). Coefficient alpha and beyond: issues and alternatives for educational research. Asia Pac. Educ. Res. 22, 209–213. doi: 10.1007/s40299-013-0075-z CrossRef Full Text | Google Scholar Wilcox, S., Schoffman, D. E., Dowda, M., and Sharpe, P. A. (2014). Psychometric properties of the 8-item english arthritis self-efficacy scale in a diverse sample. Arthritis 2014:385256. doi: 10.1155/2014/385256 PubMed Abstract | CrossRef Full Text | Google Scholar Woodhouse, B., and Jackson, P. H. (1977). Lower bounds for the reliability of the total score on a test composed of non-homogeneous items: II: a search procedure to locate the greatest lower bound. Psychometrika 42, 579–591. doi: 10.1007/BF02295980 CrossRef Full Text | Google Scholar Yang, Y., and Green, S. B. (2011). Coefficient Alpha: a reliability coefficient for the 21st Century? J. Psychoeduc. Assess. 29, 377–392. doi: 10.1177/0734282911406668 CrossRef Full Text | Google Scholar Zinbarg, R. E., Revelle, W., Yovel, I., and Li, W. (2005). Cronbach's α, Revelle's β, and Mcdonald's ωH: their relations with each other and two alternative conceptualizations of reliability. Psychometrika 70, 123–133. doi: 10.1007/s11336-003-0974-7 CrossRef Full Text | Google Scholar Zinbarg, R. E., Yovel, I., Revelle, W., and McDonald, R. (2006). Estimating generalizability to a latent variable common to all of a scale's indicators: a comparison of estimators for h. Appl. Psychol. Meas. 30, 121–144. doi: 10.1177/0146621605278814 CrossRef Full Text | Google Scholar
Collections