Publication:
La política laboral de respuesta a la emergencia sanitaria en España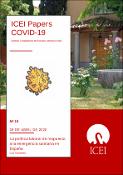 Files
Authors
Advisors (or tutors)
Editors
Publisher
Instituto Complutense de Estudios Internacionales (ICEI)
Abstract
En este documento se analizan las medidas de política laboral tomadas en respuesta a la crisis socio económica provocada por la emergencia sanitaria derivada del COVID-19, junto con algunos indicadores tentativos sobre los efectos que ha tenido la misma sobre el mercado laboral. La evidencia preliminar muestra que las medidas tomadas han cambiado la respuesta tradicional ante una caída profunda de la actividad económica (con el mayor protagonismo de las suspensiones de empleo) pero no completamente puesto que aún persisten muchos de esos rasgos típicos (fuerte destrucción de empleo y especialmente en contratos atípicos) derivados de la segmentación del mercado de trabajo. Esto arroja algunas dudas sobra la capacidad del sistema de protección frente al desempleo para garantizar una cobertura y suficiencias adecuadas durante este año de recesión económica, requiriendo un refuerzo del mismo.
Citation
Buendía, L. (2018). A perfect storm in a sunny economy: a political economy approach to the crisis in Spain. Socio-Economic Review, https://doi.org/10.1093/ser/mwy021 Escrivá, J. L. (2020). Comisión de Trabajo, Inclusión, Seguridad Social y Migraciones. Congreso de los Diputados. Eurofound (2019). Labour market segmentation: Piloting new empirical and policy analyses, Publications Office of the European Union, Luxembourg. Garcia-Serrano, C. and Malo, M. A. (2013). Beyond the contract type segmentation in Spain. Country Case Study on labor Market Segmentation. Employment Working Paper No. 143. ILO. Herrero, D., Cárdenas, L. & López-Gallego, J. (2020). ¿Conduce la flexibilización a menor desempleo? Un análisis empírico del mercado laboral español. Revista Internacional del Trabajo, https://doi.org/10.1111/ilrs.12146 International Labour Organisation (ILO) (2020). COVID-19 and world of work impacts and responses. International Labour Organisation publications. Muñoz de Bustillo, R., y Esteve, F. (2017). The neverending story: Labour market deregulation and the performance of the Spanish labour market, en Piasna, A., y Myant, M. (coords.): Myths of employment deregulation: how it neither creates jobs nor reduces labour market segmentation. Brussels, European Trade Union Institute (ETUI), págs. 61-80. Sola, J., Alonso, L. E., Fernández, C. J. & Ibáñez, R. (2013). The Expansion of Temporary Employment in Spain (1984-2010): Neither Socially Fair nor Economically Productive. En M. Koch y M. Fritz (eds.), Non-Standard Employment in Europe: Paradigms, Prevalence and Policy Responses. Londres: Palgrave Macmillan.