Publication:
Aulas dinámicas y telecolaborativas: desarrollo y fortalecimiento de las competencias tecnológicas para la mejora de la calidad docente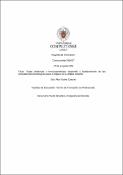 Authors
Rodriguez Serna, Crisálida
Torres Barragán, María de las Nieves
Muñoz Garrido, Victoria Vicenta
López Guinea, María del Castellar
Jiménez Astudillo, Mónica
Advisors (or tutors)
Editors
Abstract
Se intenta proponer un modelo pedagógico de aula invertida, que plantea el objetivo de transferir el proceso de enseñanza-aprendizaje y extrapolarlo fuera del aula, a fin de implementar el tiempo de docencia en pro del aprendizaje significativo. Este proyecto se fundamenta en un marco teórico consistente y riguroso, que se focaliza en el formato tele-colaborativo, pero que también integra la metodología Flipped Classroom, el aprendizaje significativo, aprender haciendo y el proceso de enseñanza-aprendizaje colaborativo, abriendo así los roles tradicionales que se han venido consensuando hasta la sociedad del momento y donde los alumnos de nuestras aulas tienen un papel de mero espectador pasivo.
An attempt is made to propose an inverted classroom pedagogical model that aims to transfer the teaching-learning process and extrapolate it outside the classroom in order to implement teaching time based on meaningful learning. This project is based on a consistent and rigorous theoretical framework, which focuses on the tele-collaborative format, but also integrates the Flipped Classroom methodology, meaningful learning, learning by doing and the collaborative teaching-learning process, thus opening the roles Traditional that have been consensuando until the society of the moment and where the students of our classrooms have a role of mere passive spectator.