Publication:
Creación y evaluación de un corpus de estructuras narrativas mediante colaboración masiva entre usuarios de un minijuego web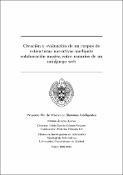 Files
Authors
Advisors (or tutors)
Editors
Abstract
La creación y la evaluación de corpus narrativos son dos tareas de suma importancia en el campo de la Narratología Computacional. Habitualmente estas tareas son realizadas manualmente por expertos en narración y en el dominio de conocimiento de las historias que forman el corpus, lo que supone un proceso costoso en términos de tiempo y dinero. Debido a este coste, es habitual que las aplicaciones desarrolladas en areas como la Generación de Historias no dispongan de corpus suficientemente extensos sobre los que trabajar. Este proyecto trata de aprovechar el potencial de las aplicaciones de colaboración masiva de la llamada Web 2.0 para realizar estas tareas, simplificando la creación y evaluación de corpus narrativos en varios aspectos: sin requerir la participación de expertos, sin tener gastos asociados a la contratación de evaluadores, y procesando muchas más historias en menos tiempo. Para este propósito se propone un método de creación y la evaluación de corpus mediante colaboración masiva basado en un juego serio web al que los usuarios acceden voluntariamente para divertirse inventando historias, mejorándolas y dando su opinión sobre las que han creado otro usuarios, mientras que internamente se almacenan las estructuras narrativas generadas y las valoraciones correspondiente de los usuarios. Como caso de estudio se ha desarrollado un minijuego llamado Zombie Story Maker que ha sido puesto a disposición del público y cuyos resultados se analizan y discuten al final de este documento. Como conclusión, se exponen las limitaciones que tiene este método en términos de la complejidad de las historias que pueden obtenerse, pero también las facilidades de aumentar la escala de las aplicaciones narrativas que ofrece este método tiene frente a otros más convencionales. [ABSTRAC] The creation and evaluation of narrative corpora are two tasks of great importance in the field of Computational Narratology. Usually these tasks are manually perfomed by experts on narration and the knowledge domain of the stories that form the corpus, what means an expensive process in terms of time and money. Due to this cost, it is usual that applications developed in areas as Story Generation do not have extensive enough corpora for working with. This project try to take advantage of the potential of the mass colaboration applications of the so-called Web 2.0 for performing these tasks, simplifying the creation and the evaluation of narrative corpora in several aspects: without requiring experts'participation, without having expenses associated with the hiring of evaluators, and processing many more stories in less time. For this purpose it is proposed a method for creating and evaluating corpus by mass collaboration based on a web serious game to which users voluntarily access for having fun inventing stories, improving them and giving their opinion about those created by other users, while internally the generated narrative structures and the corresponding assessments from the users are stored. As case study it has been developed a minigame called Zombie Story Maker that has been made available to the public and whose results are analyzed and discussed at the end of this document. As conclusion, the limitations of this method in terms of complexity of the stories that can be obtained are explained, but also the chances of scaling up the narrative applications that this method offers against more conventional ones.
Description
Máster en Investigación en Informática, Facultad de Informática, Departamento de Ingeniería del Software e Inteligencia Artificial, curso 2009-2010