Publication:
Metodologías GEODS: revisión e inventario de técnicas de diagnóstico territorial para el diseño de propuestas de desarrollo sostenible de la Agenda 2030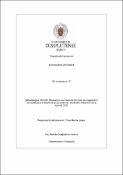 Advisors (or tutors)
Editors
Abstract
Manual de metodologías para el diagnóstico territorial y el diseño de estrategias para el desarrollo sostenible en diferentes escalas territoriales, en el contexto de la Agenda 2030. Se incluye una selección de técnicas explicadas de forma didáctica y sintética, con diagramas, ejemplos de aplicación y algunas referencias para ampliar información.
Manual of methodologies for territorial diagnosis and the design of strategies for sustainable development at different territorial scales, in the context of the 2030 Agenda. It includes a selection of techniques explained in a didactic and synthetic way, with diagrams, application examples and some references for more information: DAFO, CAME, PESTEL, LLUVIA DE IDEAS, MARCO LOGICO, MATRIZ, ARBOL DE PROBLEMAS, ARBOL DE OBJETIVOS, ESPINA DE PESCADO, EASW, ERP, BOLA DE NIEVE Y 5 FUERZAS DE PORTER.
Manuel de méthodologies pour le diagnostic territorial et la conception de stratégies de développement durable à différentes échelles territoriales, dans le cadre de l'Agenda 2030. Il comprend une sélection de techniques expliquées de manière didactique et synthétique, avec des schémas, des exemples d'application et quelques références pour Plus d'information.
Manual de metodologias de diagnóstico territorial e desenho de estratégias de desenvolvimento sustentável a diferentes escalas territoriais, no contexto da Agenda 2030. Inclui uma seleção de técnicas explicadas de forma didática e sintética, com diagramas, exemplos de aplicação e algumas referências para Mais Informações.