Publication:
Manejo de emociones negativas en el aprendizaje colaborativo en línea. Enfoque multimodal para resolver dificultades técnicas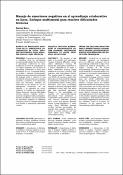 Authors
Advisors (or tutors)
Editors
Abstract
El propósito de este artículo es identificar cómo los participantes manejan las dificultades técnicas durante el aprendizaje colaborativo en línea. Analizamos el marco de participación en un corpus compuesto por 30 horas de aprendizaje colaborativo en línea entre estudiantes de una universidad andina, su profesor y expertos internacionales. Presentamos una interacción multimodal del lenguaje verbal y corporal en una actividad de colaboración para el análisis momento a momento de la interacción social que evoluciona. También nos enfocamos en las formas en que los participantes interactúan con sus palabras y su expresión no verbal, utilizando el análisis de conversación. Hemos observado cómo las dificultades técnicas generan malestar social y emociones negativas entre participantes. Nosotros describimos cómo se muestran las emociones negativas en diferentes contextos y cómo los usuarios resolvieron esto durante el aprendizaje colaborativo en línea.
The purpose of this paper is to identify how participants manage technical difficulties during online collaborative learning. We analyze the participation framework in a corpus composed of 30 hours of online collaborative learning among students at an Andean university, their professor, and international experts. The internet-based IT platform used was ZOOM. We present a multimodal interaction of verbal and body language in collaborative activity for the analysis of moment-by-moment evolving social interaction. Also using conversation analysis, we focus on the ways in which participants interact with their words and their non-lexical expression. Thanks to this methodology, we describe the moment-by-moment interactional work performed in collaborative activity. We have observed how technical difficulties generate social unrest and negative emotions shared among participants. In many cases, these difficulties generate conflicts between participants. We describe how negative emotions are shown in mixed contexts, and how users solved these during online collaborative learning.
L'objectif de cet article est d'identifier comment les participants gèrent les difficultés techniques lors de l'apprentissage collaboratif en ligne. Nous analysons le cadre de participation à un corpus composé de 30 heures d'apprentissage collaboratif en ligne entre des étudiants d'une université andine, leur professeur et des experts internationaux. Nous présentons une interaction multimodale du langage verbal et corporel dans une activité collaborative pour l'analyse de l'évolution des interactions sociales à chaque instant. En utilisant également l'analyse de conversation, nous nous concentrons sur la façon dont les participants interagissent avec leurs mots et leurs expressions non lexicales. Nous avons observé comment les difficultés techniques génèrent des troubles sociaux et des émotions négatives partagées entre les participants. Nous décrivons comment les émotions négatives sont montrées dans des contextes mixtes et comment les utilisateurs les ont résolues lors de l'apprentissage collaboratif en ligne.
Collections