Publication:
Novel Insights into the Transmission of SARS-CoV-2 Through the Ocular Surface and its Detection in Tears and Conjunctival Secretions: A Review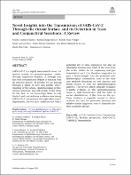 Authors
Martínez de la Casa, José María
Konstas, Anastasios Georgios
Advisors (or tutors)
Editors
Abstract
SARS-CoV-2 is a highly transmissible virus that spreads mainly via person-to-person contact through respiratory droplets, or through contact with contaminated objects or surfaces from an infected person. At present we are passing through a phase of slow and painful understanding of the origin, epidemiological profile, clinical spectrum, and risk profile of the virus. To the best of our knowledge there is only limited and contradictory evidence concerning SARS-CoV-2 transmission through other routes. Importantly, the eye may constitute not only a potential site of virus replication but also an alternative transmission route of the virus from the ocular surface to the respiratory and gastrointestinal tract. It is therefore imperative to gain a better insight into the potential ophthalmological transmission route of the virus and establish directions on best practice and future models of care for ophthalmological patients. This review article critically evaluates available evidence on the ophthalmological mode of viral transmission and the value of earlier identification of the virus on the eye. More evidence is urgently needed to better evaluate the need for protective measures and reliable ocular diagnostic tests to diminish further pandemic spread.
Description
En O.A. en la web del editor. Recibido: 26de mayo de 2020
Collections