Publication:
Auditor automático para nivel 3 del CMMI‐SW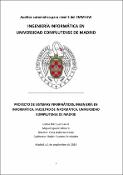 Advisors (or tutors)
Editors
Abstract
El estándar Capability Maturity Model Integration (CMMI) ofrece un modelo organizativo a las empresas que les permite mejorar su estructura y organización. Para ello se recogen una serie de evidencias, las cuales se evalúan según el nivel de madurez que se quiera conseguir en un proceso de auditoría aplicado a la empresa que es objeto de estudio. El resultado son una serie de recomendaciones para que la empresa pueda adoptar y trabajar de forma más adecuada en el nivel objetivo. El proyecto presentado en esta memoria consiste en el desarrollo de un sistema para auditar el cumplimiento de CMMI‐ SW nivel 3. El sistema permite recoger evidencias, ayuda al auditor en su evaluación, y genera un informe sobre la auditoría y sus resultados. El sistema ha sido probado en el GRupo de investigación en Agentes Software – Ingeniería y Aplicaciones (GRASIA), perteneciente a la Facultad de Informática de la Universidad Complutense de Madrid.
The Capability Maturity Model Integration (CMMI) standard provides an organizative model that allows companies to improve their structure and organization. It proposes gathering certain evidences regarding the activities of the company, which are evaluated according to the target maturity level in an audit process. The result of the process is a report on recommendations that the company should adopt and implement in order to work in a more appropriate way in the target level. The project presented in this memory has developed a system to support auditors in their work to assess the compliance of companies with the CMMI‐SW level 3. The system includes functionality to record the information on the gathered evidences, help the auditor in their evaluation, and generate the report on the auditing process and its results. This system has been tested in the research group on Software Agents – Engineering and Applications (in Spanish, GRupo de investigación en Agentes Software – Ingeniería y Aplicaciones, GRASIA), Facultad de Infórmatica, Universidad Complutense of Madrid.
Description
Trabajos de curso (Departamento de Ingeniería del Software e Inteligencia Artificial, FDI)
Collections