Publication:
Measurement of the vibration state of an array of micro cantilevers by diffractional methods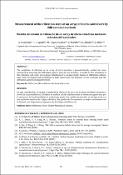 Advisors (or tutors)
Editors
Publisher
Sociedad Española de Óptica
Abstract
The amplitude of vibration of an array of micro‐cantilevers piezoelectrically excited has been measured by analyzing the diffraction pattern given by the structure. A model for the simulation of this situation, and some out‐of‐plane interferometric measurements based on diffraction pattern, have been developed and performed to fully understand the dynamic of the elements and the diffraction pattern produced by them.
En esta contribución, se analiza la amplitud de vibración de un array de micro‐voladizos excitados a través de un piezoeléctrico. El objeto de análisis son las distribuciones de irradiancia generadas por la estructura. Se ha desarrollado un modelo que explica los cambios producidos en las figuras de y se han realizado medidas de la figura de difracción producida. Esto permite un mejor conocimiento de la dinámica del dispositivo y la generación de la figura de difracción.
Description
Recibido: 16/09/2011. Revisado: 14/12/2011. Aceptado: 16/12/2011.
Collections