Publication:
Caracterización química y evaluación de la actividad biológica de setas silvestres y cultivadas comestibles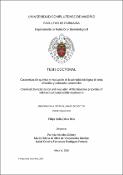 Files
Authors
Advisors (or tutors)
Silva de Vasconcelos Meehan, Maria Helena da
Fernandes Rodrigues Ferreira, Isabel Cristina
Editors
Publisher
Universidad Complutense de Madrid
Abstract
En los últimos años, ha incrementado el interes por cuestiones de salud publica, estilo de vida saludables y por lo tanto se la incrementado la búsqueda de alimentos saludables que además ofrezcan alternativas terapéuticas innovadoras. De esta manera, existe una mayor demanda de alimentos y productos alimenticios saludables que además de presentar un buen perfil nutricional, tengan o aporten beneficios para la salud, a saber, alimentos funcionales, así como complementos alimenticios y / o nutracéuticos. En este contexto, las setas se presentan como una excelente opción por su valor nutricional, contenido en compuestos bioactivos y propiedades beneficionas para la salud. Las setas son alimentos saludables, ricos en proteínas, vitaminas y minerales; son fuente de compuestos bioactivos, tales como ácidos grasos insaturados o mono/oligosacáridos; y que tienen propiedades bioactivas, tales como actividades antioxidantes, antiinflamatorias o antimicrobianas, además de tener efectos beneficiosos cardiovasculares, entre otros.Bragança (Portugal) es una de las regiones de Europa con mayor biodiversidad micológica, y de gran tradición de recolección de setas silvestres, de modo que es importante realizar una cuidadosa identificación y caracterización de dicha biodiversidad, con el mayor numero de especies de setas silvestres comestibles posible...
In recent years, there is a greater health care, with people increasingly looking for a healthy lifestyle and therefore healthy foods, which could also provide innovative therapeutic options. To this end, public awareness of the need for a careful and healthy diet has increased. In this way, there is a greater demand for healthy food and food products that associated with its nutritional function, have health benefits, namely functional foods, as well as food supplements and/or nutraceutics. In this context, mushrooms arise as an excellent option for their nutritional value, bioactive compounds and health-promoting properties.Mushrooms have been pointed as valuable health foods, rich in protein, vitamins and minerals; a source of bioactive compounds, such as unsaturated fatty acids or mono/oligosaccharides; and as having bioactive properties, such as antioxidant, anti-inflammatory, or antimicrobial activities, as well as having cardiovascular beneficial effects, amog others.Since Bragança (Portugal) is one of the regions of Europe with greater mycological biodiversity, it is important to undertake a careful identification and characterization of a large number of wild edible mushroom species. In addition, being also a region where mushroom picking is a tradition, the scientific community plays an important role in the formation of the general population, and this is also one of our research group concerns...
Description
Tesis de la Universidad Complutense de Madrid, Facultad de Farmacia, Departamento de Nutrición y Bromatología II, leída el 29/09/2017. Tesis formato europeo (compendio de artículos)
Collections