Publication:
La protesta en tiempos de COVID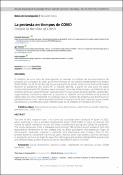 Advisors (or tutors)
Editors
Publisher
Federación Española de Sociología
Abstract
El objetivo de esta nota de investigación es realizar un análisis de acontecimientos de protesta en la España de 2020, pero insertándolo en un estudio longitudinal más amplio (2000-2020), con el fin de discutir hasta qué punto la acción colectiva se ha transformado durante la pandemia del COVID-19. El estudio aborda, a partir de una base de datos construida mediante PEA (protest event analysis), tanto las dimensiones cuantitativas de la protesta como sus características cualitativas principales (tipo de participantes, demandas, organizadores, métodos y objetivos) y las pone en relación con las dinámicas de protesta observadas en años anteriores. Se concluye que el número de protestas no disminuyó en pandemia tanto como cabría esperar (mientras sí que lo hizo la participación) y que puede identificarse un perfil particular y diferenciado de la protesta en tiempos de COVID.
The aim of this research note is to carry out a protest event analysis in Spain in 2020, while inserting it into a broader longitudinal study (2000-2020) in order to discuss the extent to which collective action has been transformed during the COVID-19 pandemic. The study addresses, from a database built through PEA (protest event analysis), both the quantitative dimensions of the protest and its main qualitative characteristics (type of participants, demands, organizers, methods, and objectives), and compare them to the protest dynamics observed in previous years. Results show that protests did not decrease in pandemic as much as might be expected (although participation did) and that a particular and differentiated profile of protest can be identified in times of COVID.
Collections