Publication:
La Cartografía Interactiva como elemento publicitario del turismo: propuesta aplicada a itinerarios urbanos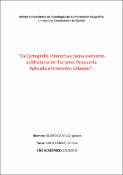 Authors
Advisors (or tutors)
Editors
Abstract
Se realiza un análisis sobre ejemplos seleccionados de aplicaciones cartográficas interactivas para la oferta turística que aparecen en webs de Ayuntamientos, Diputaciones o Comunidades Autónomas y en donde se ofertan destinos urbanos con un importante contenido histórico, cultural, artístico y de ocio. A partir de este análisis se elabora una propuesta de aplicación cartográfica interactiva para el uso turístico.
Citation
SLOCUM, T.; "Map Animation", Thematic Cartography and Geovisualization, 389-407. SLOCUM, T.; "Web Mapping", Thematic Cartography and Geovisualization, 441-459. ROD, J.K., et al. 2001: "An agenda for democratising cartographic visualisation"; Norsk Geografisk Tidsskrift-Norwegian of Geography Vol. 55, 38-41. PETERSON, MICHAEL P., 1999: "Technical Communication: Active legends for interactive cartographic animation"; Department of Geography, University of Nebraska at Omaha. AHLQVIST, O., 2010: "A common framework for visually reconciling geographic data semantics in geospatial data mapping portals"; Department of Geography, The Ohio State Universiti. HARROWER, M., 2004: "A look at the history and future of animated maps"; Department of Geography, University of Wisconsin-Madison. GÓMEZ MORENO y PÉREZ RODRÍGUEZ, Serie Geográfica, 1993, vol. 3, p. 112. MARISCAL, A., 2002: "Posibilidades del turismo en Internet"; Avantur. Asociación para la Investigación de Medios de Comunicación, 2011: "Navegantes en la Red", 13º encuesta AIMC a usuarios de Internet. SANAGUSTÍN E. et Al. "Del 1.0 al 2.0: Claves para entender el Nuevo Marketing", 2009. VV.AA. "Panorama de Medios en Internet", 2011. Evolnetmedia.