Publication:
La investigación social aplicada en redes sociales. Una innovación metodológica para el análisis de los «Me gusta» en Facebook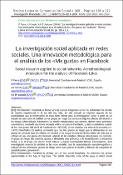 Advisors (or tutors)
Editors
Abstract
Facebook ya forma parte de nuestro imaginario social. Su notoriedad ha crecido de manera exponencial en la era del Big Data. En este artículo se exponen algunas de las posibilidades que la información de estas redes brinda para la investigación social a partir de un estudio de caso sobre el análisis de los grupos de riesgo que conducen bajo los efectos del alcohol y las drogas. Metodología. Mostramos un diseño metodológico que permite obtener datos primarios cuantitativos, mediante una breve encuesta online lanzada en Facebook, y datos cualitativos a partir de los «me gusta» del perfil de Facebook (n= 215.232), de los usuarios que realizan la encuesta (n=1.437). Resultados. El análisis demuestra que hay tres grupos de riesgo que se diferencian en sus pautas de conducir bajo los efectos del alcohol y las drogas en función de los estilos de vida que se reflejan en sus «me gusta» de Facebook, además de las variables clásicas estructurales. En concreto, el grupo de riesgo alto presenta gustos y afinidades más próximos a la insatisfacción y resistencia social, y es el grupo con menor nivel cultural y mayor eventualidad laboral. Conclusiones. Esta investigación muestra la utilidad de las redes sociales para la caracterización sociodemográfica y cultural de los principales grupos de riesgo como paso previo al diseño y difusión de campañas de sensibilización y prevención.
Facebook is already part of our social imaginary. Its notoriety has grown exponentially in the Age of Big Data. This article illustrates some of the ways in which social networks might function as a major resource of information for social research. These possibilities are illustrated through the case study of groups of people who drive under the influence of alcohol and drugs. Method. This study is based on quantitative and qualitative tools: a short online survey questionnaire made accessible through Facebook, which allows the obtaining of quantitative primary data, and the qualitative analysis of the Facebook Likes (215,232) of the survey participants (n=1,437). Results. The analysis shows that three risk groups (high, medium, low) can be differentiated among participants based on their driving patterns under the influence of alcohol and drugs and on the basis of the life styles, which they reflect through their Facebook Likes, and of classical structural variables. In particular, the high-risk group exhibits preferences and tastes that are closer to social discontent and resistance, and it is the group with the lowest educational level and the highest rate of casual employment. Conclusions. This research study shows the usefulness of social networks in the socio-demographic and cultural characterisation of risk groups, which must be a preliminary step to the design and dissemination of prevention and awareness-raising campaigns.
Collections