Publication:
Un modelo de previsión para el Producto Interior Bruto Español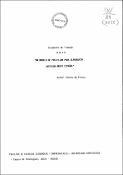 Files
Authors
Advisors (or tutors)
Editors
Publisher
Facultad de Ciencias Económicas y Empresariales. Decanato
Abstract
En este artículo y con datos anuales correspondientes al periodo 1953-1983, se investigan las relaciones entre el Producto Interior Bruto español (PIBE), el Producto Nacional Bruto de Estados Unidos (PNBU) y el Producto Nacional Bruto de un conjunto de Países Industrializados (PNBI). Dada la dependencia de la economía española respecto de la economía mundial, se trata de averiguar hasta que punto es posible aprovechar esta información para mejorar las previsiones del Producto Interior Bruto español. En la construcción de nuestros modelos de previsión empleamos la metodología de análisis de series temporales desarrollada por Box, Jenkins, Tiao y otros autores. Los resultados del trabajo sugieren que la introducción de información internacional (PNBU, PNBI) en los modelos de previsión de variables nacionales (PIBE) permite mejorar el output de estos últimos.
Citation
Alavi, A.S. y G.M. Jenkins (1981): "Some aspects of modelling and forecasting multivariate time series". Journal of Time Series Analysis, núm. 2, pág: 1-47. Box, G.E.P. y G.M. Jenkins (1970): Time Series Analysis Foreoasting and Control. Holden-Day San Francisco, ed. revis. 1976. Box, G.E.P. y G.C. Tiao (1975): "Intervention analysis with applications to economics and environmental problems". Journal of the American Statistical Association. núm. 70, pág. 70-79. Garcia-Ferrer A., Highfield R.A., Palm F., Zellner A. (1987): "Macroeconomic forecasting using pooled international data". Journal of Business & Economic Statistics, vol. 5. núm. 1, pág. 53-67. Tiao, G.C. y G.E.P. Box (1981): "Modelling multiple time series with applications". Journal of the American Statistical Association. núm. 75, pág, 802-816. Treadway A.B., R. Carbajo y J. Garcia-Pardo (1986): Los Efectos de la Expansión Monetaria sobre la Economía Real Española". Fundación Ramón Areces, Madrid.