Publication:
Influencia del cambio en la metodología de enseñanza-aprendizaje y de evaluación, de presencial a on-line, en el aprendizaje de contenidos, competencias y en el rendimiento académico de estudiantes de primer curso de grado de la UCM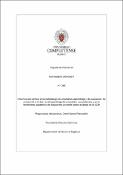 Advisors (or tutors)
Editors
Abstract
Debido a Covid-19, el cambio en el modo de enseñar y evaluar al alumnado, con más énfasis en el campus virtual, afectará sensiblemente al curso 2020-2021. Se analiza la influencia sobre el aprendizaje y rendimiento académico de la asignatura Química en los estudiantes de 1º curso de varios grados de ciencias de la UCM.
Due to Covid-19, the change in the way of teaching and evaluating students, with more emphasis on the virtual campus, will significantly affect the 2020-2021 academic year. We analyze the influence on the learning and academic performance of the subject Chemistry in 1st year students of several science degrees of the UCM.
En raison de Covid-19, le changement dans la façon d'enseigner et d'évaluer les étudiants, en mettant davantage l'accent sur le campus virtuel, affectera considérablement l'année universitaire 2020-2021. Nous analysons l'influence sur l'apprentissage et la performance académique de la matière Chimie chez les étudiants de 1ère année de plusieurs licences scientifiques de l'UCM.