Publication:
Lecturas (Re)mediadas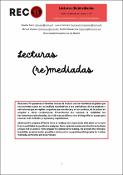 Authors
Goicoechea de Jorge, María
Advisors (or tutors)
Editors
Abstract
Proponemos diferentes modos de lectura con herramientas digitales que nos permiten pasar de los análisis cuantitativos a los cualitativos, de las palabras y estructuras que se repiten a aquellas que son únicas y en su contexto, de la lectura en singular a otras colaborativas. Presentamos las razones, la viabilidad, las herramientas seleccionadas, las rúbricas posibles y una bibliografía de apoyo para conocer más métodos, programas y experiencias.
We propose different ways of reading with digital tools that allow us to move from quantitative to qualitative analyses, from repeated words and structures to those unique and in context, from singular to collaborative reading. We present the rationale, feasibility, selected tools, possible rubrics and a supporting bibliography for further methods, softwares and experiences.
Description
"Cuadernos del ahora" es una serie de publicaciones breves sobre conceptos muy actuales para darlos a conocer y ofrecer un acercamiento a la información académica más relevante. Cada "Cuaderno" consiste en una definición del concepto, una sistematización del estado de la cuestión y una bibliografía esencial comentada. Se enmarca en el proyecto del plan estatal de investigación científica y técnica y de innovación "REC-LIT. Reciclajes culturales: transliteraturas en la era postdigital" (RTI2018-094607-B-I00), en la Universidad Complutense de Madrid.