Publication:
Análisis comparativo de la audiencia social de La Sexta Noche y Salvados: la política en prime time y la formación de la esfera pública digital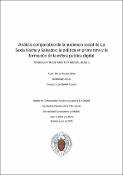 Authors
Advisors (or tutors)
Editors
Abstract
Investigación científica sobre el papel que desempeña la televisión en la formación de la esfera pública digital en los medios sociales mediante un análisis comparativo de contenido de las audiencias sociales de los programas La Sexta Noche y Salvados. La metodología del estudio es la de un análisis cuantitativo mediante una monitorización de la actividad de sus cuentas oficiales y equipos de trabajo con el objeto de conocer su impacto y su interacción con los espectadores; y de los partidos políticos y sus representantes, para detectar los líderes y grupos que logran mayor difusión en Twitter. Asimismo, se analizan los mensajes más relevantes para descubrir si existe "autocomunicación de masas" y determinar los líderes de opinión en torno a estos programas y los tipos de usuarios y tweets más repetidos.
This project consists of a scientific research about the role of the television in the creation of a digital public sphere in the social media by means of a comparative content analysis of the TV programs La Sexta Noche and Salvados. As the methodoly of my research, I have made a quantitative study with a monitoring of the activity of the official user accounts and the work team with the objective of knowing the impact and interaction with the spectators; and the activity of political parties and their representatives to discover the leaders and gropus who get more spreading in Twitter. Furthermore, I analysed the most relevant messages to find out if "mass self-communication" exists and to determine the opinion leaders of these programs and the most popular kind of users and tweets.